By: Jorge Estacio
Journal of Global Rights and Organizations, Associate Articles Editor
RUSSIA — The European Court of Human Rights (ECHR) has recognized that Russian authorities continue to systemically fail to protect victims of domestic violence.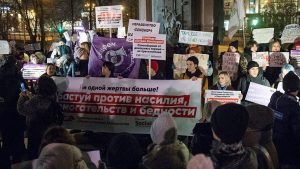 On September 14, 2021, the ECHR rendered a verdict in favor of Valeriya Igorevna Volodina, holding that authorities violated the European Convention on Human Rights. Specifically her right to respect for private life. After separating from her partner, "S.", Ms. Volodina became a target for cyber violence. Her former partner created faked social media accounts using her name, planted a GPS tracking device within her bag, and sent death threats to her actual social media account. Additionally, S. used the fake social media account to display nude pictures of Ms. Volodina without her consent. The court stated that Russian law failed to provide protection for victims of domestic violence. The authorities had the legal tools to investigate the ongoing cyberviolence but failed to take measures of deterrence. They took two years to open a criminal case for the matter. Which resulted in the perpetrator escaping justice due to a time limit contingency within criminal proceedings. For security reasons Ms. Volodina changed her name to an undisclosed identity as of 2018.
The ECHR is threatening to continue handling Russian domestic violence cases in a simplified and accelerated form if the government does not adopt proper measures. The court refers to Ms. Volodina's case as an example of the systematic problems that continue to prevent prosecution and convictions for domestic violence.
Displaying their willingness to expedite justice for Russian victims of domestic violence, the ECHR joined the judgment of four cases with similar subject matter. It resulted in Russia paying monetary compensation for each victim. The case noted authorities failed to properly assess the victims' claims, were not properly trained to do so, and failed to take any action towards the known risk. Additionally, the international court condemned the government for having a legal framework that set a high threshold for injuries to be prosecutable and criminal proceedings that rushed through domestic violence inquiries. One of the victims lost her case in Kuzminskiy District Court because she arrived "sixteen minutes late" for the hearing. On December 14, 2021, in its decision the ECHR noted Russia violated several Articles of the European Convention on Human Rights culminating in discrimination against women.
Although insufficient to fully compensate for gross disregard of Human Rights, the ECHR efforts are certainly making it clear that the Russian government cannot continue to disregard the lack of human protection.  
For further information, please see:
The European Court of Human Rights – Press Release: Violations in authorities' failure to respond to domestic violence cases; urgent legal changes required – Dec. 14, 2021
Jurist| Legal News & Commentary – Europe human rights court rules Russia must do more to combat domestic violence – Dec. 16, 2021
The European Court of Human Rights – Press Release: Russian authorities failed to protect domestic abuse victim from her partner's cyberviolence – Sept. 14, 2021
Institute of Modern Russia – Sergei Davidis: "The human rights violations in Russia is fraught with instability in the West" – Jan. 12, 2022
Author:
Christian Gonzalez