By: Hannah Gavin
Impunity Watch Staff Writer
STRASBOURG, France – In February, the European Court of Human Rights (ECRH) stood in clear opposition against Russian leader Vladimir Putin by issuing a written statement calling for the release of opposition leader Alexei Navalny.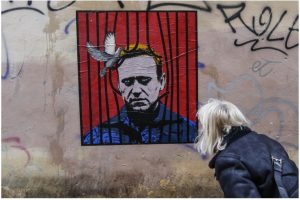 Navalny has created a firestorm of opposition in recent months against Vladimir Putin and his regime. However, Navalny's calls have been silenced as he sits in a Russian Prison. The ECHR stated in their press release that Navalny's arrest was necessary for his own safety. The Court cited a recent attack on his life as the main catalyst for their opinion.
Navalny was arrested in mid-January on a return flight from Germany to Moscow. His flight to Russia was following his absence in the country for months following an extended hospital stay in Berlin. In late August of 2020, Navalny had been traveling on a flight from Siberia to Moscow when he suddenly fell into a coma. He was eventually taken to a hospital in Berlin where a Soviet-era nerve agent was found to have poisoned him. Although Putin has denied Navalny's accusations that he was behind the poisoning, much of the World assumes Putin was involved. A week prior to his arrest, the Russian Prison Service issued a warrant for Navalny's arrest stating that he violated the terms of a 2014 suspended sentence for embezzlement. This charge was already ruled on by the ECRH in 2017 and found to be unreasonable. Although the warrant was issued, Navalny believed his arrest would be "impossible" upon his arrival to Moscow and chose to fly back regardless. Since his arrest, Navalny has now also been charged with insulting a WWII veteran. Another move that many believe is meant to silence his opposition. 
In a nation long shut off from the progressing World in many respects, Navalny offered promises of globalism. His goal for Russia was simple, in theory. He wanted a European Russia. A nation connected with the whole of the continent and one that participated in free and fair commerce, communication, and travel. Navalny pushed against the Putin regime which has continued to rule without the true will of the people. For a younger generation of Russians and many of their elder cohorts, Navalny signaled change. However, despite his poisoning and arrest, Navalny continues to inspire. After his poisoning, last year and continuing to today, widespread and often violent protests have ignited across Russia. Navalny's return to Russia amidst imminent threat only bolsters his supporters. Such an extreme show of bravery and care of Russia reminds the people that what they are fighting for is worth it.
However, regardless of how the ECRH or the globe has responded to Navalny's arrest, Russia has a different tale. Top Russian officials described the ECRH release as unlawful and claimed it was the Western World attempting to meddle in a domestic issue. Russia's Justice Minister said that the opinion was not based on even a single fact. He claimed there was no reason to release Navalny under Russian law. He further went on to say that the Court's issue is impossible to fulfill and was a political move that only exacerbates an already strained relationship.
The implications for Russia's arrest of Navalny extend beyond the obvious threat he posed to Putin's grip on unwavering power. Navalny became the figurehead of a movement in Russia, the force of which has not been seen in decades. Navalny's principals stood in stark opposition to those and gave millions in Russia a sense of hope for the future. With Russia facing potential expulsion from the European Council and sanctions by many Western nations, this may be a turning point for the country. Although Russia is notoriously secretive, the World will wait with bated breath to see if the ECHR ruling will hold any ground. Until then, Russian citizens supporting Navalny will continue to organize and fight for the nation at the center of it all.
For further information, please see:
AP News – Russia Rejects European Rights Court's Order to Free Navalny – 17 Feb. 2021                     
DW News – 'Release' Alexei Navalny, European Court of Human Rights tells Russia – 17 Feb. 2021
DW News – Alexei Navalny: Prosecutors Urge Fine in Slander Case – 16 Feb. 2021
European Court of Human Rights – The Court Grants an Interim Measure in Favour of Aleskey Navalnyy and Asks the Government of Russia to Release him – 17 Feb. 2021
Politico – Kremlin Critic Navalny Arrested After Landing in Moscow – 17 Jan. 2021
Reuters – Russia Dismisses European Court of Human Rights' Call to Free Navalny – 17 Feb. 2021