By: Elyse Maugeri
Journal of Global Rights and Organizations, Associate Articles Editor
STRASBOURG, France – In 2006, while living in London, former KGB officer Alexander Litvinenko died after being poisoned with polonium 210, a radioactive substance. It has been long believed that Moscow was behind the attack due to the allegations that Mr. Litvinenko as working with western European authorities to prove high levels of corruption and organized crime in the Russian intelligence services. Now, the European Court of Human Rights confirmed what many suspected, that Russia was behind the attack.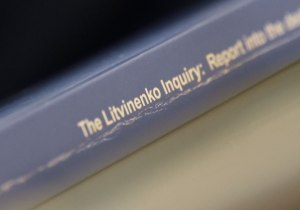 In October 2006, over the course of the month, two Russian men, Andrey Lugovoy and Dmitriy Kovtun, both acquaintances of Mr. Litvinenko, visited him in London for multiple meetings. After each meeting, there were found to be trace amounts of polonium contamination in areas where the men had met. During the final meeting on 31 October 2006, Mr. Litvinenko and the two men met in their hotel's bar and drank tea together. Three days later, Mr. Litvinenko fell extremely ill and was admitted to a hospital in London. Trace amounts of polonium were found in the teapot. He was later transferred to the University College Hospital, where it was suspected he had been poisoned using a radioactive substance. Mr. Litvinenko died three weeks later, with cause of death as acute radiation syndrome.
Shortly after he died, UK police opened an investigation into the poisoning. In 2007, they determined that there was sufficient evidence to charge Mt. Lugovoy for the murder. Later, in 2011, Mr. Kovtun was also charged. However, due to Russian extradition laws, neither man stood trial in the UK. In fact, later in 2007, Mr. Lugovoy became a member of Russian Parliament and acquired parliamentary immunity.
The Russian Prosecutor General launched its own investigation but provided little to no information for the ECHR.
In the UK a public inquiry was carried out, finding that beyond a reasonable doubt, Mr. Lugovoy and Mr. Kovtun poisoned Mr. Litvinenko with polonium. It also rejected any allegation that the two men had been set up by British authorities or that Mr. Litvinenko accidentally or purposefully poisoned himself. The inquiry also found that the two men had strong ties with the Russian state and the assassination had been directed by the FSB. All information in the inquiry was provided to the ECHR.
In its decision, the ECHR found that Russia failed to provide any necessary documents that had been requested, such as the investigation file, Mr. Lugovoy's statements, and legal assistance requests. Further, despite Russian objection, the UK's inquiry was permissible to be used as evidence because it was an independent and unbiased inquiry.
The Court also determined that since Russia investigated the death, a jurisdictional link had been established in the incident. Also, there existed a "special feature" in the case, that Russia retained an exclusive jurisdiction over Mr. Lugovoy, which further established the jurisdictional link. The Court acknowledged the lack of information provided by Russia in their investigation and thus concluded that the investigation was not effective in identifying and punishing those involved.
In the UK inquiry, it was determined that neither Mr. Lugovoy nor Mr. Kovtun had specific reason to kill Mr. Litvinenko, leaving State involvement as the most, and only, plausible reason. This paired with Russia's refusal to cooperate, strengthened the belief that the assassination was ordered by the Russian State.
The Court held that Russia was to pay the applicant, Mr. Litvinenko's widow Marina Litvinenko, €100,000 for non-pecuniary damage and €22,500 for costs and expenses. Punitive damages were not awarded.
For further information, please see:
The European Court of Human Rights – Press Release: Russia was responsible for assassination of Aleksandr Litvinenko in the UK – 21 Sept. 2021
BBC News – Russia behind Litvinenko murder, rules European rights court – 21 Sept. 2021
NPR – Russia Fatally Poisoned A Prominent Defector In London, A Court Concludes – 22 Sept. 2021
Reuters – Russia was behind Litvinenko assassination, European court finds – 21 Sept. 2021
Author:
Christian Gonzalez