By Zach Waksman
Impunity Watch Reporter, Africa
CAIRO, Egypt – On October 23, twenty-year-old Aliaa Magda Elmahdy posted a full frontal nude photograph of herself on her blog as a complaint against a ban on nude models in Egyptian universities and books.  After the photo was removed from her Facebook page, she gave a friend of hers permission to post it on Twitter, under her own name and the hashtag #NudePhotoRevolutionary.  The tweet, first posted last week, has been viewed more than one million times, and her daring act has set off a powder keg of debate in Egypt that may affect the country's elections scheduled for November 28.
The mostly black and white picture depicts Elmahdy – who is naked except for a red ribbon in her hair, a pair of thigh-high stockings and red patent leather shoes – standing with her foot on a stool.  Her blog post features several other nude pictures, including a variant of the main photo that uses it in triplicate with censor bars over her eyes, mouth, and sex organs.  It is accompanied by a caption, written in both Arabic and English.
"Put on trial the artists' models who posed nude for art schools until the early 70s, hide the art books and destroy the nude statues of antiquity," it urges.  "[T]hen undress and stand before a mirror and burn your bodies that you despise to forever rid yourselves of your sexual hangups before you direct your humiliation and chauvinism and dare to try to deny me my freedom of expression."
She later spoke to the media about the post and her motives.
"I accepted [my friend's request to post the photograph] because I am not shy of being a woman in a society where women are nothing but sex objects harassed on a daily basis by men who know nothing about sex or the importance of a woman," Elmahdy told CNN during an interview Saturday.
Since the early 1970s, Egypt has become one of the most conservative countries in the Middle East and Africa.  Its majority-Muslim population frowns upon nudity, even as an art form.  Most women wear veils to cover their heads.  Even those who go bareheaded generally keep their arms and legs covered.  In a Facebook post, Elmahdy described her actions as "echoing screams against a society of violence, racism, sexism, sexual harassment and hypocrisy."  Continuing further, she opined that women wore veils and covered their bodies due to religious and social pressure.
"The women with head veil[s] that I know wear [them] because of their families or because they don't want to be beaten in the streets," she wrote in another Facebook post.  "I don't see why they always dictate to women, and not to men, what they should wear."
Another example of such a view of women took place during a Tahrir Square sit-in after the fall of ex-dictator Hosni Mubarak's regime.  After breaking up the protest with a series of mass arrests, security forces subjected female dissidents to virginity tests, which Elmahdy likened to rape.  Human Rights First has issued a report that decries "a pattern of targeting politically active women" in Egypt.
"Local activists report being assaulted, stripped, sexually baited, and threatened with charges of prostitution and virginity tests," said Human Rights First's Brian Dooley.  "There appears to be a policy of trying to intimidate women out of the political sphere through this gender violence."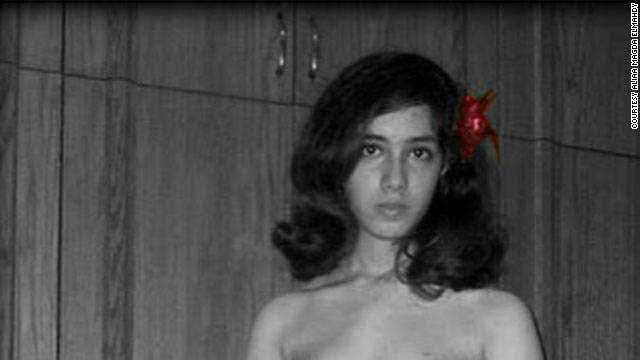 Since posting the photo, Elmahdy has been exposed to criticism from both liberal and conservative factions in Egyptian politics, especially with the election looming next Tuesday.  The hardline Islamist Salafis have run a campaign against more liberal groups by saying that the liberals will corrupt the country's morals.  In that sense, her post could not have come at a worse time for liberal organizations.
"This hurts the entire secular current in front of those calling themselves the people of virtue," Sayyed El-Qimni, a prominent self-described secular figure, said referring to Islamists.  "It's a double disaster.  Because I am liberal and I believe in the right of personal freedom, I can't interfere," El-Qimni said Wednesday night on one of Egypt's most popular political talk shows, 90 Minutes.
An alleged connection between her and the April 6th Movement, a liberal organization that was instrumental in the revolt that drove out Mubarak, forced the organization into damage control mode on television.  When faced with the allegations, a party spokesman said that it urged all of its members "to be role models as far as ethics are concerned," meaning that her outrageous behavior would have precluded her joining.  Another left-leaning party, the Egyptian Social Democratic Party, also expressed disapproval.
"Many movements in Egypt, particularly Islamist movements, are trying to benefit," said Emad Gad, one of its parliamentary candidates. "They say, 'We have to protect our society from things like this, and if the liberals win then this woman will become a model for all Egyptian women.'"
Among activists and commentators, Elmahdy received a considerably more favorable reaction.  Iranian-born activist Maryam Namazie was impressed by her audacity, calling the decision "the ultimate act of rebellion" against the Islamists trying to take control of the post-Mubarak Egypt.  To Egyptian-American journalist Mona Eltaway, Elmahdy served as "the Molotov cocktail thrown at the Mubaraks in our heads – the dictators of our mind – which insists that revolutions cannot succeed without a tidal wave of cultural changes that upend misogyny and sexual hypocrisy."  Human rights activist Ahmad Awadalla also responded, tweeting: "A feminist #Jan25 revolutionary posted her nude photo on the internet to express her freedom.  I'm totally taken back by her bravery!!"
But for Elmahdy, who is suddenly a villain at home and a hero abroad, her plans are simple.  "I am a believer of every word I say and I am willing to live in danger under the many threats I receive in order to obtain the real freedom all Egyptian are fighting and dying for daily," she said.
For more information, please see:
CNN — Egyptian Blogger Aliaa Elmahdy: Why I Posed Naked — 19 November 2011
Colombo Telegram — Egyptian Feminist's Blog Received 2.5 Million Hits with Her Full Frontal Nude Shot — 18 November 2011
International Business Times —Aliaa Magda Elmahdy, Nude Blogger, Gains Support from Egyptian Diaspora — 18 November 2011
Daily News Egypt — Activist Posts Herself Nude, Sparks Outrage — 17 November 2011
New York Times — Nude Blogger Riles Egyptians of All Stripes — 17 November 2011
International Business Times — Aliaa Magda Elmahdy, Nude Blogger, Hits Back at Her Critics — 16 November 2011
International Business Times — Aliaa Magda Elmahdy, Nude Blogger: The Fight for Women's Rights in the Arab Spring — 16 November 2011
Al-Masry Al-Youm — Fury Over Young Activist Publishing Nude Self-Portrait — 13 November 2011
Aliaa Magda Elmahdy's Original Blog Post — 23 October 2011
Author:
Impunity Watch Archive