By: Alexandra Casey
Journal of Global Rights and Organizations, Associate Articles Editor
CAIRO, Egypt — On September 20, 2019, anti-government protests were held in several Egyptian cities, violating the country's ban on protesting without a permit. Protesters called on President Abdel Fattah al-Sisi to step down following allegations of government corruption. Egyptian authorities have since detained more than 2,000 people in a government crackdown. This response is significant even in a regime that has long targeted dissenters.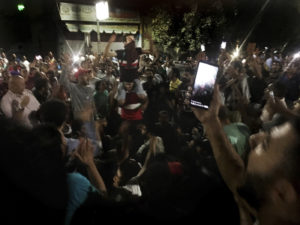 According to Amnesty International, authorities have arrested everyone from street protestors to prominent government critics and have accused detainees of breaking the country's broad anti-terrorism laws, spreading fake news, protesting without a license, and joining an illegal organization. Many of the arrests appear to have no connection to the recent protests. After September 20, al-Sisi moved swiftly to rally support. He organized state backed demonstrations praising his current rule and had authorities set up check points to search all cell phones for signs of government criticism.
Prominent journalist and activist, Esraa Abdelfattah, was reportedly arrested by plain-clothes officers and beaten after refusing to unlock her cell phone. Aaron Boehm, a U.S. citizen who had recently arrived in Egypt for a University of Edinburgh study abroad program, was also detained after police officers stopped him in the street and searched his phone. Upon discovering that Boehm sent articles to his friends about the protests, he was put in a vehicle, blindfolded for about 16 hours and interrogated by authorities. While Boehm did not suffer physical abuse, he reported seeing signs of violence against detainees.
The sheer volume of arrests following the September 20 protests combined with al-Sisi's meager gestures towards addressing citizens' economic grievances suggest that while Egypt appears stable, unrest may lie just below the surface. Analysts say that al-Sisi's promise to reinstate subsidies for staples such as rice and pasta will do little to rectify citizens' disapproval.
Mass arrests have resulted in overcrowding of detention centers, and allegations of torture and ill treatment in detention centers has received attention from the United Nations Human Rights Office. The UN High Commissioner for Human Rights, Michelle Bachelet, has also expressed concerns about significant due process violations.
In a statement to press, OHCHR spokesperson, Ravina Shamdasani, reminded the Egyptian government that "under international law people have a right to protest peacefully, and a right to express their opinions, including on social media. They should never be arrested, detained – let alone charged with serious offences such as terrorism – simply for exercising those rights."
Shamdasani called for immediate release of those who have been arrested and detained solely for exercising their rights and prompt, effective investigation into the allegations of torture and mistreatment.
For further information, please see:
Reuters – U.N. rights office urges Egypt to free blogger, lawyer, journalist – 18 Oct. 2019
UN News – UN human rights office urges Egypt to immediately release detained protestors – 18 Oct. 2019
NPR – Major Crackdown In Egypt Sweeps Up Activists, Children and At Least 1 U.S. Citizen – 12 Oct. 2019
NY Times – Egypt's Harsh Crackdown Quashes Protest Movement – 4 Oct. 2019
Reuters – More than 1,100 detained in Egypt after protests: rights monitors – 25 Sept. 2019