By: Brianna Sclafani
Journal of Global Rights and Organizations, Associate Articles Editor
ETHIOPIA — A year-long civil war between the Ethiopian Government, led by Prime Minister Abiy Ahmed, and soldiers of Tigray People's Liberation Front (TPLF) has recently intensified. The Tigray conflict can be traced back through generations in Ethiopia, but the recent conflict began in the fall of 2020.  When elections were postponed due to the coronavirus pandemic, TPLF held regional parliamentary elections in defiance of Abiy's orders. "Abiy called the vote illegal, and lawmakers cut funding to TPLF leadership". Tension escalated between the government and Tigray leaders until reaching a breaking point in November of 2020. Abiy, assisted by troops from the neighboring country of Eritrea, ordered a military assault on the group in response to an attack on a federal army base. Millions have been affected by the civil war, and experts are worried that the spreading conflict in Ethiopia could destabilize the entire Horn of Africa.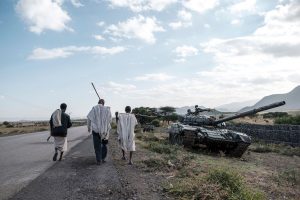 The United Nations High Commissioner for Human Rights led a joint investigation into alleged violations of international human rights in Tigray. The report highlighted the widespread use of sexual violence, torture, and unlawful attacks on civilians committed by parties on all sides of the conflict. October 23, 2021, the African Commission on Human and People's Rights released a statement reflecting its deep concern "about the escalation of the conflict in the Tigray Region of Ethiopia and its impact on the civilian population".  The commission urged the federal government "to restore and facilitate the speedy and unhindered access of humanitarian aid and relief" to the millions of civilians affected by this war.
Now more than a year later since the original developments, Tigray forces, supported by other rebel groups in Ethiopia, have their eyes on the capital city of Addis Ababa. Current reports are conflicted as to how close the rebels are to the capital city, however, a new state of emergency has been declared by the government. While the state of emergency was apparently instated due to an abundance of caution, it allows for the conscription of any citizen over the age of 18 who owns a firearm. The armed forces have also asked veterans to rejoin the military. In a recent speech and multiple Facebook posts, Abiy pledged to keep fighting the rebels. The Nobel Peace laureate has found himself suspended from Facebook for these posts which violated the companies' policies on incitement and support of violence. U.S President Joe Biden, German Foreign Minister Heiko Maas, the U.N. Security Council, the African Union, Kenya, and Uganda have all called for a ceasefire. In a conflict that has already killed thousands, and displaced millions, it remains unclear how many more civilians will be affected by the crisis.
For further information, please see:
Anadolu Agency – Germany calls for immediate end to hostilities in Ethiopia – 4 Nov. 2021
African Commission on Human and Peoples' Rights – Press Statement On The Recent Airstrikes In The Tigray Region Of The Federal Democratic Republic Of Ethiopia – 23 Oct. 2021
CNN – Ethiopia is at war with itself. Here's what you need to know about the conflict – 5 Nov. 2021
CNN – Ethiopia's leader said he would bury his enemy. His spokeswoman doesn't think it was incitement to violence – 10 Nov. 2021
NPR – Rebels are closing in on Ethiopia's capital. Its collapse could bring regional chaos – 9 Nov. 2021
Office of the United Nations High Commissioner for Human Rights – Ethiopian Human Rights Commission Tigray Report – 3 Nov. 2021
Reuters – Ethiopians denounce U.S. at rally to back military campaign – 8 Nov. 2021
Author:
Christian Gonzalez