By: Holly Popple
Journal of Global Rights and Organizations, Senior Associate Editor
GENEVA, Switzerland — France violated French children's rights by failing to repatriate them from Syrian detention camps in which they were detained for years in dangerous conditions, according to new findings issued by the UN Child Rights Committee.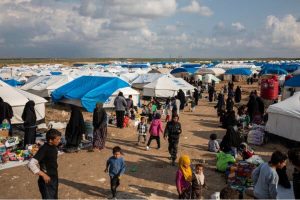 The Child Rights Committee, which monitors States parties' adherence to the Convention on the Rights of the Child, issued its findings after considering three separate cases filed by a group of French nationals whose relatives were currently detained in Rawj, Ayn Isa, and Hawl camps in northeastern Syria, which is under the control of Kurdish forces.
The three cases involved 49 children who were detained in these camps due to their parent's alleged ties with Da'esh, an ISIL terrorist group. Of those 49 children for whom the cases were brought, 38 remain detained in these camps without a timeline for release. Most of these children are under twelve and many are as young as five years old.
In these findings, the Committee condemned France's failure to repatriate these children based on the lack of due consideration given to the best interests of the child victims when reviewing requests for repatriation, in part due to the inhumane and life-threatening conditions endured by detainees. Committee member Ann Skelton commented on the state of the camps, saying, "The children are living in inhuman sanitary conditions, lacking basic necessities including water, food and healthcare, and facing an imminent risk of death." She recounted the fact that since 2021, 62 children have reportedly died in the camps and called on France to take immediate action to protect the children. This immediate action refers to repatriation when viable but includes additional measures in the meantime meant to mitigate the health and safety risks of detainees while they still reside in Syria.
Health concerns from unsanitary conditions are far from the only issue that implicates human rights violations occurring in these camps. Children are deprived of their right to education, liberty, security, life, and freedom from violence. Physical violence, psychological trauma, harassment, violent extremism, and trafficking are rampant in these camps and pose a daily threat to those who live there.
Many countries have been hesitant to repatriate these children due to both legal and practical concerns, citing national security concerns and logistical difficulty in ascertaining the identity and nationality of the children as top reasons for the failure of repatriation of the children thus far. However, the interests in protecting these children from the harm they endure from continuing to be detained in these camps cannot be justified by the fact of their parent's alleged ties to ISIL. France and other countries that have the power to repatriate these children must take action to prevent more human rights violations and return them to their country of origin.
For further information, please see:
HIR – French Children in Syria: The Repatriation Question – 13 May 2021
OHCHR – Convention on the Rights of the Child – 2 Sept. 1990
OHCHR – France Violated Rights of French Children Detained in Syria by Failing to Repatriate Them, UN Committee Finds – 24 Feb. 2022
OHCHR – The World Must Bring Children Home from Syrian Detention Camps – 22 Sept. 2021
OSJI – European States' Obligations to Repatriate the Children Detained in Camps in Northeast Syria – Jul. 2021
UN News – France Violated Rights of French Children Detained in Syrian Camps – 24 Feb. 2022
Author:
Christian Gonzalez