By: Karina Johnson
Impunity Watch Reporter, South America
CARACAS, Venezuela — On Friday, September 14, the secretary-general of the Organization of American States (OAS) Luis Almagro held a press conference addressing the ongoing economic crisis in Venezuela.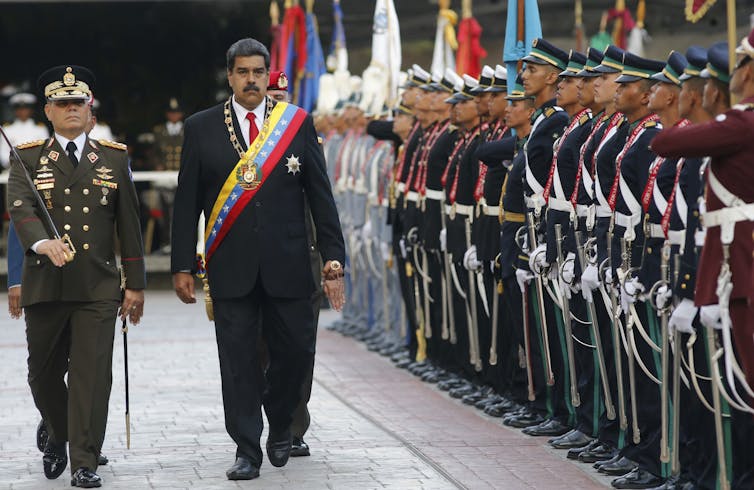 During the press conference where he spoke to Venezuelan migrants in Colombia, Mr. Almagro stated that the OAS would not rule out military action to overthrow Nicolás Maduro, the president of Venezuela, and restore democracy.  Mr. Almagro further alleged that the Maduro regime is "Perpetrating crimes against humanity toward its population and violations of human rights."
However, Mr. Almagro's statements have been condemned by the Lima Group, a coalition of Latin American countries plus Canada, formed in 2017 specifically to address the Venezuelan crisis.  The Lima Group has accused Mr. Almagro of promoting military interventionism against Venezuela—a sentiment echoed by the Venezuelan government.  "Almagro attacks Latin America and the Caribbean. . . [and] intends to revive the worst military intervention on the continent," said Venezuelan Vice President Delcy Rodriguez.
Venezuela denounced the American Convention on Human Rights in 2012 but remained a member-state of the OAS until 2017, when President Maduro announced Venezuela would begin the two-year process to withdraw from the organization.  In June 2018, OAS held an extraordinary assembly to vote on suspending Venezuela from the OAS with a majority voting in favor of suspension.
In 2017, the Maduro Administration replaced Venezuela's legislative branch, the National Assembly—which was dominated by opposition parties—with the regime-controlled "Constituent Assembly."  The administration has gone further to stay in power by blacklisting and jailing opposition candidates and shutting down critical news outlets.
Critics of the Maduro Administration have proposed that a military coup is one of the last hopes to restore a legitimate constitutional democracy in Venezuela.  They have also warned that allowing President Maduro to remain in power could lead to a return to the Latin American military dictatorships of the mid-20th century.
At least 2.3 million people have fled Venezuela's political and economic crisis that began in 2014 following a sharp decline in crude oil prices.  Approximately 93% of Venezuelans still in the country do not earn enough to buy food, and most must devote hours every day just to find food.  According to a recent report by the Office of the United Nations High Commissioner for Human Rights, Venezuelan security forces have killed over 8,000 people in non-protest related operations since 2012.
For more information, please see:
Independent – Venezuela government guilty of 'worst human rights crisis in its history' – 21 September 2018
Al Jazeera – Lima Group rules out military intervention in Venezuela – 17 September 2018
BBC News – How Venezuela's crisis developed and drove out millions of people – 22 August 2018
PBS – 5 reasons why the crisis in Venezuela could get worse – 27 July 2018
United Nations Human Rights OHC – Venezuela: Continued impunity amid dismal human rights situation – UN report – 22 June 2018
Foreign Policy – It's Time for a Coup in Venezuela – 5 June 2018
Reuters – OAS calls extraordinary assembly to vote on suspending Venezuela – 5 June 2018
Al Jazeera – Venezuela's crisis explained from the beginning – 23 March 2018
Author:
Impunity Watch Archive