By: Madison Kenyon 
Impunity Watch Staff Writer 
BELFAST, Ireland — On Thursday, October 3, the high court in Belfast, Ireland held that Northern Ireland's abortion law violates human rights. Specifically, Justice Keegan, the presiding judge, found that the law is incompatible with the United Kingdom's human rights commitments. Justice Keegan will hear more submissions before deciding what definitive action to take.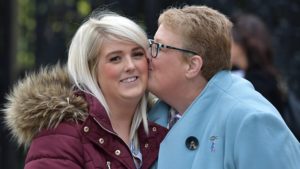 The current abortion law in place in Northern Ireland only permits an abortion in cases where it is necessary to save the life of the mother or prevent permanent mental or physical damage of the mother. There is no exception for rape, incest, or fatal fetal abnormalities. Further, abortion is a criminal offense under the Offences Against the Person Act of 1861, which carries a maximum sentence of life imprisonment. Due to this law, women who seek an abortion must travel outside of Northern Ireland in order to get one. Although England, Scotland, and Wales all legalized abortions in 1967, Northern Ireland did not follow suit.
In June 2018, the Northern Ireland Human Rights Commission brought a case in the United Kingdom's Supreme Court challenging Northern Ireland's abortion law. The court dismissed the case though because it found that the Commission lacked standing and rather the case needed to be brought by a woman who had been denied an abortion. The court did state however, that Northern Ireland's abortion law was incompatible with Article 8 of the European Convention on Human Rights.
Following this dismissal, in January 2019, Sarah Ewart brought the present case. Ms. Ewart had previously been denied an abortion in 2013 even though her doctor told her that the child would either die during birth or shortly after leaving the womb. Along with being denied an abortion, she did not receive any advice as to where she could get an abortion or what she should do. Thus, Ms. Ewart had to travel to London in order to obtain an abortion. Justice Keegan found Ms. Ewart's testimony to be very persuasive and she held that she did not think another woman should have to go through the same trauma that Ms. Ewart went through.
Regarding Thursday's decision, Ms. Ewart stated, "Today's ruling is a turning point for women in their campaign against the outdated laws prohibiting against abortion in Northern Ireland." As Ms. Ewart suggests, this is definitely a step towards liberalizing Northern Ireland's abortion law however, it is still very dependent on how the legislature reacts to this decision. Yet, this is not the only pressure the legislature has received to change Northern Ireland's abortion law. Rather, in July 2019, the British Parliament voted on a plan that would decriminalize abortion in Northern Ireland if the local government, which stopped functioning in January 2017, did not re-establish itself by October 21. Thus, with an upcoming deadline, the legislature must act fast and in compliance with Thursday's holding, or the court should expect a lot more cases like Ms. Ewart's.
For further information, please see: 
The Hill – High Court Rules Northern Ireland's Abortion Ban Violates Human Rights – 3 Oct. 2019
AlJazeera – Northern Ireland Abortion Law Breaches Human Rights, Court Says – 3 Oct. 2019
CNN – Northern Ireland Abortion Law Breaches Human Rights, High Court Rules – 3 Oct. 2019
House of Commons: Women and Equalities Committee – Abortion Law in Northern Ireland – 3 Apr. 2019