By: Ann Ciancia
Journal of Global Rights and Organizations, Associate Articles Editor
SANTIAGO, Chile – On October 18, thousands of Chilean people commenced protesting the government's announcement of increasing public transportation costs. One day later, a state of emergency was declared as violence escalated within the country of Chile. The U.N. has reported over 20 deaths and 2,300 injuries of protestors since their fight for fair costs and equality began a month ago. The escalation of violence continues to grow daily in Chile.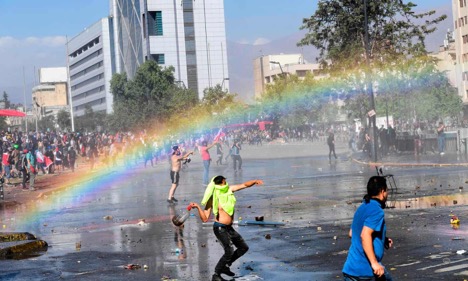 Chile's President, Sebastián Piñera, declared a state of emergency with night-time curfews, positioning tanks, and troops to face what he considers a "war with a violent enemy." Many believe the excessive use of law enforcement was not necessary and has put the lives of many at a risk of safety. President Piñera has engaged in violating human rights through military demonstrations of arson, riots, rubber bullets, and tear gas. Many individuals have been blinded by these attacks.
Many victims have fallen short against the excessive force used by police. Children are being treated poorly, beaten, and detained. Amnesty International has reported over 7,000 people being detained since the beginning of the protests. Many women have reported being victims of sexual violence and being raped while in detainment. Active protestors of the country are being tortured for speaking out.
The Chilean people are being beaten for expressing their thoughts about change for their country through protests. A nationwide movement of peaceful demonstrations has led to violent riots. This has caused havoc throughout the country and has led to over a billion dollars' worth of damage to the infrastructure of the nation. The violence against protestors in Chile has caused mass destruction in this country.
"Violence can never be the answer to people's social and political demands."
One particular protestor, Alex Nunez, was chased by three police officers and was severely beaten. The injuries he sustained that night, where only 5% of his brain was working, resulted in his death.
Prosecutors in Chile are investigating over 1,000 cases of abuse alleged by protestors. The abuse victims have faced range from sexual violence, to assault and torture. All of these injuries were sustained by victims from police and military members. The National Human Development Initiative collected over 50 cases in connection with homicide and sexual violence involving the Chilean security agents. A Chilean prosecutor was selected to investigate the crimes against human rights violations within the districts of Santiago.
Amnesty International is continuing to investigate possible violations of human rights law and crimes against protestors of Chile. Due to the amount of deaths and injuries, it is evident that Chilean authorities have used excessive force against these protestors. The world continues to call out President Piñera to take action to stop harmful force used against victims by police and military members and to allow protestors to use their platform for a movement to fight against inequality.
For further information, please see:
Reuters – Human rights abuse accusations proliferate in Chile unrest – 15 Nov. 2019
Amnesty International – Chile: Amnesty International denounces human rights violations to the Inter-American Commission on Human Rights – 11 Nov. 2019
UN News – Violence can 'never be the answer': UN rights experts condemn excessive force during Chile protests – 8 Nov. 2019
The Guardian – Chile protests: UN to investigate claims of human rights abuses after 18 deaths – 24 Oct. 2019