By: Wendy Neeley
Impunity Watch News Staff Writer
Benin – On December 20, 2022, Eric Noudehouenou filed an application against the Republic of Benin with the African Court on Human and Peoples' Rights. Noudehouenou alleges several human rights violations against the respondent parties and asserts that many of these violations and actions were prohibited by previous judgments of the court. The allegations include violations of "respect for life and physical and moral integrity", the "right to a fair trial", the "right to freedom of opinion and expression", the "right to freely associate with others", and the "right to participate freely in the conduct of public affairs of one's country".
Noudehouenou filed the application on behalf of himself and other citizens of the Republic of Benin. Notably, the application states that Noudehouenou has been given power of attorney for Reckya Madougou. Madaougou was arrested while protesting the presidential election in 2021 which was prohibited by an earlier judgment of the court.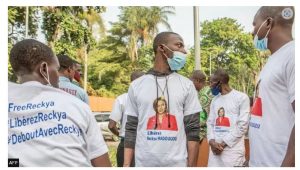 Benin is a West African country formerly known as Dahomey. It is underdeveloped and is ranked among the world's poorest countries, but it has seen significant economic growth over the past few years. Although it is one of Africa's more stable democracies, there is still some political unrest, as evidenced by the protests that resulted in the arrest of Madougou.

The application filed by Noudehouenou requests that the court enforce the judgments that would have prevented the 2021 Presidential Election and erase all of the effects of the election. He claims that not acting with urgency on the matter will cause irreparable harm. Additionally, the application calls for the suspension of Madougou's detention. The circumstances around the arrest and trial have some questioning the conviction of acts of terrorism. Additionally, the application claims that Madougou is being held in appalling conditions and has not been allowed to communicate with her lawyers privately.

After reviewing the application, the court found that they can no longer take any measures regarding the 2021 Presidential election since it has already occurred, and the measures sought are not moot. Additionally, the court found no justification for the request for the suspension of the detention warrant for Reckya Madougou. Accordingly, and absent any further proceedings, she will be required to carry out her sentence of twenty years of imprisonment.
For further information, please see:
ACtHPR – Houngue Eric Noudehouenou v. Republic of Benin, 20 Dec. 2022

BBC News – Benin country profile – 16 Jan. 2023

BBC News – Reckya Madougou: Opposition leader jailing damages Benin democracy – laywer – 12 Dec. 2021 

Reuters – Benin opposition leader sentenced to 20 years in prison – 11 Dec. 2021