By Samuel Miller
Impunity Watch Desk Reporter, North America and Oceania
SYDNEY, Australia — Thailand's top police investigator in charge of human trafficking has fled to Australia, telling Australian media that he feared for his life after his findings implicated influential people who want to silence him. Major General Paween Pongsirin was appointed to investigate trafficking networks within Thailand after the discovery of mass graves at migrant camps earlier this year.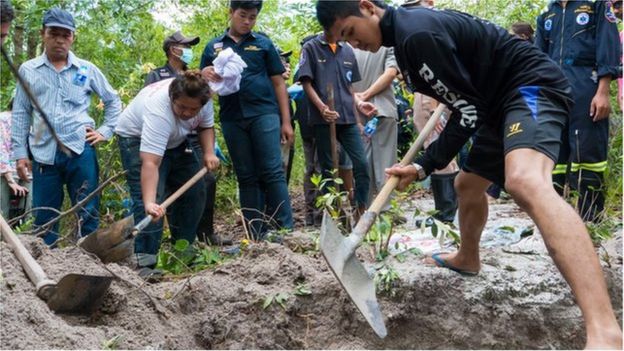 Major General Paween arrived in Australia several days ago on a tourist visa via Singapore, and said he planned to seek asylum.
Thailand has long been a major international hub for human trafficking and people smuggling, with human rights groups accusing Thai officials of turning a blind eye to the multimillion dollar trade. Some have gone even farther, raising questions about the extent of collusion between crime syndicates and the authorities in Thailand.
General Paween was appointed to be chief investigator of a suspected Rohingya trafficking network after at least 30 graves, believed to contain the bodies of trafficked Rohingya, were discovered in May in the southern part of Thailand. The Rohingya, an oppressed linguistic and ethnic minority in Myanmar, began to flee the country after clashes with the state's Buddhist community in 2012.
In October, Major General Paween's investigation was halted, despite his own pleas that his work was unfinished, with many more suspects at large. Major General Paween said he had faced growing demands from powerful people to suspend his investigation, which featured people in the Thai establishment, including the Army, the Navy, the police, and local and national politicians.
His investigation resulted in more than 150 arrest warrants issued, including for politicians, policemen and military figures.
He was then ordered to move to the deep south, where amid an ongoing insurgency traffickers operate more freely, and where he said he and his family would be at great risk of reprisals.
Thailand's southern border with Malaysia is considered to be a hotbed of human trafficking.
Paween said he hadn't planned his escape before leaving Bangkok and as a result finds himself in Australia with little money and facing a lengthy asylum application process. Australia declined to comment on Major General Paween's possible asylum application.
Trial for 88 suspected human traffickers, including government figures, civilians, police and military officers, will begin next March.
For more information, please see:
Reuters — Thai police trafficking investigator seeks asylum in Australia: media – 11 December 2015
BBC News — Thailand trafficking: Top policeman seeks Australia asylum – 10 December 2015
CNN — Thai human trafficking investigator seeks asylum in Australia – 10 December 2015
Denver Post — Thai trafficking investigator flees to Australia – 10 December 2015
NY Times — Fleeing Thailand, Top Investigator of Human Trafficking Says He Fears for His Safety – 10 December 2015
The Straits Times — Thai cop who implicated officials in human trafficking seeks asylum in Australia – 10 December 2015
Author:
Impunity Watch Archive