Alexa Connaughton
Impunity Watch News Staff Writer
SAN JOSE, Costa Rica – The Inter-American Court of Human Rights has heard its first case regarding the total criminalization of abortion and is expected to deliver a formal written opinion before the end of the year. The case, Beatriz, et al. v. El Salvador, was recommended to the Court by the Inter-American Commission of Human Rights alleging violations of Beatriz's rights to life and health, to be free from inhumane treatment, to privacy, and to equity before the law. The Court's decision on this case is expected to set a precedent on abortion laws in Latin America if the woman's life is in danger or if the fetus will not survive outside the womb.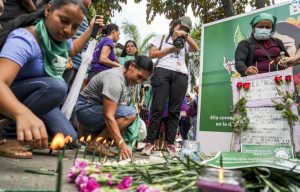 In 2013, eleven weeks into her pregnancy Beatriz was diagnosed with a high-risk pregnancy. Beatriz suffered from lupus and other ailments and was diagnosed shortly after her first pregnancy. An ultrasound revealed that the fetus was anencephalic, a lethal condition in which part of the brain and skull don't develop inside the womb. Carrying this type of pregnancy to term can lead to many complications including obstetrical hemorrhaging. The medical committee at El Salvador's national maternity hospital recommended an abortion, however, abortion is illegal in all circumstances in El Salvador. Beatriz's legal team requested the termination of her pregnancy to save her life, but the Supreme court denied the writ, ruling she could not have an abortion. Beatriz later went into labor early and was required to have an emergency C-section, the fetus died only five hours later.
In El Salvador women have been convicted of homicide for having an abortion, with sentences ranging up to 40 years in prison. Doctors, nurses, and other medical professionals can be convicted if they are found to have supported a woman in getting an abortion and may receive up to 12 years in prison.
In 2021 the Inter American Court of Human Rights found El Salvador responsible for the death of Manuela, a woman who was sentenced to 30 years in prison, charged with aggravated homicide after suffering a miscarriage. As part of the Court's decision on that case they ruled that criminal sanctions should not be imposed automatically when pregnancy ends as a result of an obstetric emergency. However, El Salvador has made no change to their criminal abortion laws following the 2021 ruling. The hope with the pending decision in Beatriz, et al. v. El Salvador, is that a decision condemning the blanket abortion ban as a whole or in circumstances of high risk will push legislation towards decriminalization.
For further information, please see:
Human Rights Watch – El Salvador: Court Hears Case on Total Abortion Ban – 23 Mar. 2023
IACHR – Caso Beatriz y Otros vs. El Salvador – 21 Feb. 2023
Inter-American Commission on Human Rights, OAS – IACHR Takes Case Involving El Salvador's Absolute Ban on Abortion to the Inter-American Court of Human Rights – 11 Jan. 2022
Jurist – Inter-American Court of Human Rights hears El Salvador abortion access case – 23 Mar. 2023
NBC News – Activists urge human rights court to condemn El Salvador's abortion ban – 7 Mar. 2023
Reuters – Human rights court begins review of high-stakes El Salvador abortion case – 22 Mar. 2023
The Guardian – 'Historic moment' as El Salvador abortion case fuels hopes for expanded access across Latin America – 24 Mar. 2023