By: Veronica Devries
Journal of Global Rights and Organizations, Senior Associate Editor
COLOMBIA – On October 28, 2021, the International Criminal Court (ICC) said that it would close a preliminary examination into Colombia for war crimes and crimes against humanity. The preliminary examination was originally opened in 2004 and was the longest in the history of the court.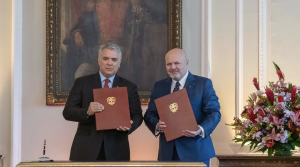 ICC prosecutor Karim Kahn arrived at a formal agreement with Colombian President Ivan Duque, in which Kahn states that Colombia "lives up to its international obligations as well as its regulatory obligations based on the principle of complementarity." Through this agreement, Duque formally commits to supporting Colombia's war crimes tribunal and to continue sharing information with the ICC.
The ongoing Colombian armed conflict has spanned nearly six decades. A peace deal was struck in 2016 with the Revolutionary Armed Forces of Colombia (FARC) rebels, but the conflict continues. As a result of the FARC deal, however, the Special Jurisdiction for Peace (JEP) was created. The JEP is a justice tribunal, trying ex-rebels and military officials for crimes related to the decades-long conflict. Khan stated his support for the JEP, announcing that this new cooperation agreement would help the JEP to function. Some have criticized the JEP for being too lenient, while Duque has also been criticized for not providing enough support to the JEP.
Khan noted that closing the preliminary examination does not equate to and end of the Office of the Prosecutor's (OTP) engagement with Colombia. He also pointed out that the OTP can reassess its decision to close the investigation, should Colombia not comply with its responsibilities.
This decision has concerned members of the international community. For example, Human Rights Watch (HRW) Americas director, Jose Miguel Vivanco, criticized the decision to close the preliminary examination. He wrote on Twitter, "The ICC prosecutor's decision to close the Columbia preliminary examination…is premature, misinformed, and detrimental to justice… The country's transitional justice system may now be an easier target." HRW also submitted a letter to the ICC prosecutor on September 30, advocating against the closing of the preliminary examination into the situation into Colombia.
For further information, please see:
Colombia Reports – International Criminal Court closes Colombia probe – 28 Oct. 2021  
Human Rights Watch – Colombia: Letter to the Prosecutor of the International Criminal Court – 30 Sept. 2021  
ICC – ICC Prosecutor, Mr. Karim A. A. Khan QC, concludes the preliminary examination of the Situation in Colombia with a Cooperation Agreement with the Government charting the next stage in support of domestic efforts to advance transitional justice – 28 Oct. 2021
Reuters – ICC Closes Preliminary War Crimes Examination into Colombia After 17 Years – 28 Oct. 2021  
Author:
Christian Gonzalez