By: Elizabeth Maugeri
Impunity Watch Staff Writer
THE HAUGE, The Netherlands – The International Criminal Court (ICC) delivered a landmark ruling in response to a request by the ICC Office of the Prosecutor (the Office) to clarify jurisdictional authority in Israeli-occupied Palestine. By a majority vote, the presiding judges held that the Court's jurisdiction extends to the occupied West Bank areas of East Jerusalem and Gaza.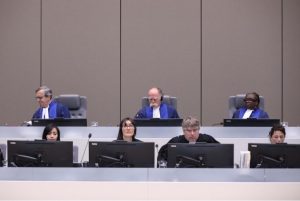 This decision came after the end of a nearly 5-year-long preliminary inquiry as to the possibility of opening an investigation into human rights abuses in the West Bank. Palestine made a formal request for an investigation in 2018, which allowed the Office to initiate one outright. However, the Office still sought guidance from the ICC before doing so.
The preliminary inquiry concluded that Rome Statute Article 53(1), detailing the ability of the Prosecutor's Office to initiate an investigation, had been satisfied. Through the inquiry, the Office found that: [1] war crimes were being committed in the West Bank, East Jerusalem, and Gaza; [2] potential cases arising would be admissible; [3] there is no reason the investigation would not serve to provide justice.
ICC Prosecutor Fatou Bensouda called upon the Court using Article 19(3) which concludes that the Prosecutor may seek the Court's ruling regarding questions of jurisdiction or admissibility. She called for a ruling on jurisdiction based on Article 12(2)(a) which states that the Court may grant jurisdiction because Palestine is a party to the Rome Statute and it made a formal request for an investigation in its own territory. She marked the significance of the ruling as a foundational answer to the potential for future litigation. The Prosecutor's request was then submitted to Pre-Trial Chamber I for the ruling.
The Pre-Trial Chamber I invited Israel and other interested countries to submit relevant observations of human rights abuses to the Chamber for review. These submitted observations, compiled with testimony of victims and an amicus curiae, helped to determine the final decision.
The Chamber held that, despite countervailing international law and recognition, Palestine is a signatory party to the Rome Statute and is therefore governed by ICC terms and must be treated as any other signatory state. UN General Assembly Resolution 67/19, which reaffirmed Palestinians right to self-determination and independence in the occupied Palestinian territory also guided the ruling.
For further information, please see:
Human Rights Watch – Israel/Palestine: ICC Judges Open Door to Formal Probe – 6 Feb. 2021
International Criminal Court – ICC Pre-Trial Chamber I issues its decision on the Prosecutor's request related to territorial jurisdiction over Palestine – 5 Feb. 2021
International Criminal Court – ICC Pre-Trial Chamber invites Palestine, Israel, interested States and others to submit observations – 28 Jan. 2020
International Criminal Court – Pre-Trial Chamber I: Situation in the State of Palestine – 5 Feb. 2021
International Criminal Court – Statement of ICC Prosecutor, Fatou Bensouda, on the conclusion of the preliminary examination of the Situation in Palestine, and seeking a ruling on the scope of the Court's territorial jurisdiction – 20 Dec. 2019