By: Mikaylah Heffernan
Impunity Watch Staff Writer
THE HAGUE, Netherlands – In a recent statement, International Criminal Court Prosecutor Karim A.A. Khan KC praised the recent arrests of two key suspects of crimes against victims of human trafficking and human smuggling in Libya.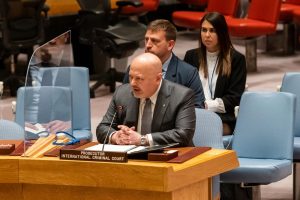 "These recent arrests and extraditions are a clear sign that international cooperation works. The collective effort in these two cases is a prime example of what can be achieved when States, agencies, and my Office join forces in pursuit of a common goal. This is the way forward if we want to ensure that no one is above the law and the impunity gap is narrowed," said Prosecutor Karim A.A. Khan KC.
An unnamed suspect, a 38-year-old man of Eritrean nationality was extradited from Ethiopia to the Netherlands after an investigation by the Dutch Public Prosecution Service and the Royal Netherlands Marechaussee. The second suspect, Gebremedhin Temesghen Ghebru, a 35-year-old man, also from Eritrea, was extradited from Ethiopia to Italy. This was due to the efforts of Polizia di Stato and the Palermo Prosecutor's Office.
Both suspects referenced were allegedly involved in smuggling of persons from Africa to Europe, during which the victims were reported to have suffered from brutal violence, including sexual violence, starvation, and extortion. It is important to note that suspects will continue to be presumed innocent, until proven otherwise. Responsibility will be determined by independent judges during the course of future litigation.
The Libya investigation referred to in this statement was unanimously referred to the ICC on the 26th of February 2011, by the United Nations Security Council. Officially opened in March of 2011, the investigation into the Libya situation has produced three cases with multiple suspects, involving charges of war crimes and crimes against humanity. The ICC continues to indicate that the Libya Situation is a priority to be addressed and encourages continued cooperation among authorities in the pursuit of accountability.
For further information, please see:
ICC – Situation in Libya – 27 Oct. 2022
ICC – Statement of ICC Prosecutor Karim A.A. Khan KC on arrest and extradition of suspects in relation to crimes against victims of trafficking in Libya – 21 Oct. 2022
ICC – Statement to the United Nations Security Council on the situation in the Libyan Arab Jamahiriya, pursuant to UNSCR 1970 – 4 May 2011