By: Madison Kenyon 
Impunity Watch Staff Writer 
MORONI, Comoros — On September 2, 2019, the Appeals Chamber of the International Criminal Court (ICC) rejected the prosecutor's appeal against the decision of Pre-Trial Chamber I on the Application for Judicial Review by the Government of the Union of the Comoros of November 12, 2018. This was a majority decision, however there were two dissenting judges.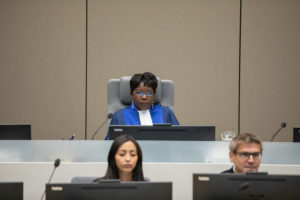 This issue arose from an attack of a vessel ship, known as the Mavi Marmara, that occurred on May 31, 2010 by the Israeli Defense Forces. This ship contained 10,000 tons of humanitarian aid that a group of pro-Palestinian activists were bringing to Gaza. During this attack, nine people were killed and about 50 others injured.
In May 2013, the Union of Comoros, a party of the Rome Statute, sent a referral to the ICC's Office of the Prosecutor to investigate this attack. However, after a preliminary examination, on November 6, 2014 the prosecutor issued her decision not to investigate any further. She stated that although the acts committed constituted war crimes, which the ICC has jurisdiction over, the acts did not have "sufficient gravity to justify further action by the ICC." In order for the prosecutor to open an investigation, it is required by the Rome Statute that she conclude that the alleged crimes are of sufficient gravity. Thus, she stated, "…I have to be guided by the Rome Statute, in accordance with which, the ICC shall prioritize war crimes committed on a large scale or pursuant to a plan or policy."
Although it is the prosecutor's decision to investigate further into a case or not, on July 16, 2015, Pre-Trial Chamber I of the ICC requested the prosecutor to reconsider the decision not to investigate. Two years later though, on November 29, 2017, the prosecutor reiterated her earlier decision, stating she will not investigate further. Yet, on November 15, 2018, the Pre-Trial Chamber I went one step further, and directed the prosecutor to reconsider her decision.
This decision to direct the prosecutor is what led to the prosecutor's appeal and this decision by the Appeals Chamber. Due to the September decision by the Appeals Chamber, the prosecutor must now once again reconsider whether she will investigate further into this attack by the Israeli Defense Forces. The Appeals Chamber however, made sure to clarify that this decision does not take away the prosecutor's power to ultimately decide whether or not to initiate an investigation.
Despite this clarification, this decision by the Appeals Chamber leads one to question whether this is truly the case. It will be interesting to see how the court responds if the prosecutor decides once again not to investigate further.
For further information, please see: 
International Criminal Court – Situation of the Registered Vessels of Comoros, Greece and Cambodia: ICC Appeals Chamber Rejects the Prosecutor's Appeal – 2 Sept. 2019 
International Criminal Court – Statement of the Prosecutor of the International Criminal Court, Fatou Bensouda, on Concluding the Preliminary Examination of the Situation Referred by the Union of Comoros: "Rome Statute Legal Requirements Have Not Been Met" – 6 Nov. 2014 
The Guardian – Israeli Attack on Gaza Flotilla Sparks International Outrage – 31 May 2010