By: Jamie McLennan
Impunity Watch Staff Writer
THE HAGUE, Netherlands – On March 18, 2021, the Ambassador of The Netherlands and the Ambassador of Ireland unveiled a new artwork that will stand at the International Criminal Court. The newly elected ICC President, Judge Piotr Hofmanski accepted the sculpture at a ceremony. President Judge Piotr Hofmanski will serve as President for a three-year term, alongside two other Vice Presidents. Responsibilities of the ICC President include attendance of all ceremonial events of the ICC, including the unveiling of such art.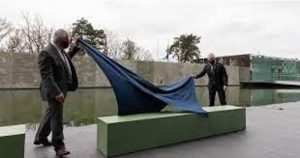 The ICC holds a series of art pieces from other member countries that reflect each country's cultural heritage and the international community's fight against impunity. The donated artwork includes of the Government of Belgium, Canada, Cyprus, Denmark, Japan, Mexico, and The Netherlands.
The newly donated artwork is a set of two green benches sculpted by Irish artist Fergus Martin. The benches titled "Oak" were placed alongside the Court's landscape and signify an oak tree's strength, a traditional symbol of justice in Ireland. 
Ireland has a longstanding relationship with the ICC. In 1998, the country signed the Court's founding treaty, the Rome Statute, and ratified their membership in 2002. Despite recent criticism of the ICC, Ireland vocalizes their support of the Court by commissioning the art piece.
As one of the founding State Parties, Irish Ambassador Kevin Kelly spoke about the importance of peace and justice to achieve stability and development. He also spoke about Ireland's continual approval of the ICC and their commitment to ending impunity for those who commit grave crimes against humanity. Kelly commended the many victorious cases of the ICC that punished individuals involved in war crimes and genocide.
In response, President Judge Piotr Hofmanski thanked Ireland for its generosity to the ICC and other related institutions. Since 2004, Ireland has donated nearly 1.3 million euros for the Trust Fund for Victims (TFV). The TFV advocates and assists the most vulnerable victims of crimes within the jurisdiction of the ICC. The fund provides court-ordered reparation awards and other payments for victims of genocide and war crimes.
Ambassador Kelly promised that Ireland would continue to aid and support the ICC in its endeavor for peace, justice, and mediation. 
For further information, please see:
ICC – Ireland Continues its Support of Reparative Justice – 14 Dec. 2020
ICC – Irish Delegation Unveils Artwork Donation – 18 Mar. 2021
ICC – New ICC Presidents Elected for 2021-2024  – 11 Mar. 2021