By Ryan Ockenden
Impunity Watch News Staff Writer
CABO DELGADO, Mozambique – Across northern Mozambique, Al-Shabab – an ISIS-backed militant group – is kidnapping boys as young as twelve years old and training them to fight and raid their very own villages. Mothers and fathers are beaten and brutalized to relinquish their children, consistently offering themselves up to be taken instead. Once in Al-Shabab's possession, the boys are trained in weaponry usage, given Islamic classes, and even told to pick a wife amongst the young girls that have also been kidnapped.
Since 2017, Al-Shabab has been terrorizing the gas-rich northern regions of Mozambique, raiding villages and towns to build their caliphate. As the caliphate grows larger, the organization has grown bolder. Their attacks on villages routinely leave dozens dead and thousands displaced. An attack earlier this year occurred on a multi-billion-dollar gas project, prompting a large military intervention from neighboring nations such as Rwanda, Botswana, and South Africa.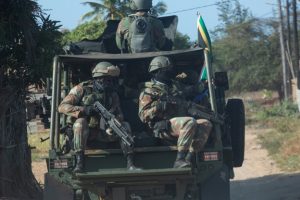 In 2004, Mozambique ratified the United Nations Optional Protocol to the Convention on the Rights of the Child for the involvement of children in armed conflict, which prohibits non-state armed groups, like Al-Shabab, from recruiting, let alone kidnapping, children. The African Court on Human and Peoples' Rights have asserted that, in general, nation parties to the African Charter, which Mozambique is, bear the primary responsibility for protecting and promoting human rights, punishing perpetrators, and passing legislation to help rectify human rights abuses.
The Prime Minister of Mozambique, Carlos Agostinho do Rosario, announced this week that the nation needs $300 million to reconstruct the insurgency in the Cabo Delgado region. While it is absolutely important to secure funding for post-conflict reconstruction, the conflict is not even over. Young boys continue to be kidnapped and trained to fight against the government. Young girls continue to be kidnapped to be child-brides. Innocent families continue to be displaced, left homeless and separated from one another.
It is important for the Mozambique government to create a plan for reconstruction, but they will not reach the reconstruction phase if they cannot put a stop to Al-Shabab's continued assault on the nation. Before they can rebuild for their people, they must save their people.
For further information, please see:
ACHPR – Press release on the International Day Against the Use of Child Soldiers – 13 Feb. 2019
All Africa – Mozambique: Al-Shabaab Deploying Child Soldiers in Mozambique, Says HRW – 1 Oct. 2021
Human Rights Watch – Mozambique ISIS-Linked Group Using Child Soldiers – 29 Sept. 2021
Yahoo News – Mozambique Insurgents Train Child Soldiers: HRW – 29 Sept. 2021
Author:
Kanalya Arivalagan