By: Christian González
Journal of Global Rights and Organizations, Associate Articles Editor
SAPPORO, Japan – On Wednesday, March 17th, a landmark ruling was made as one of the district courts for the Hokkaido prefecture found that Japan's refusal to recognize same-sex marriages was unconstitutional.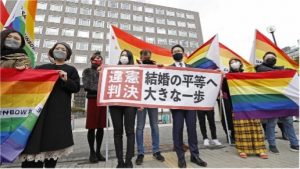 The ruling came from one of several cases that had been filed by same-sex couples on Valentine's Day in 2019, in district courts in Tokyo, Sapporo, Osaka, and Nagoya. The District Court based in Sapporo, Hokkaido's prefecture capital and largest city, made the first of such rulings.
Marriage is addressed in Article 24 of Japan's constitution, and only defines marriage in terms of opposite-sex couples stating: "Marriage shall be based only on the mutual consent of both sexes and it shall be maintained through mutual cooperation with the equal rights of husband and wife as a basis." While homosexuality has been legal in Japan since 1880, there has been no nationwide acceptance of same-sex unions, with only two wards in Tokyo allowing for 'partnership certificates,' since 2015. This creates issues for same-sex couples regarding rights of inheritance and paternity. Japan is also the only Group of Seven (G7) countries that does not recognize same-sex marriage or unions. Some have opined that Japan's lag on same-sex marriage impacts it in the international economy, as foreign firms may be deterred from recruiting workers from Japan.
The ruling was made by presiding Judge Tomoko Takebe, who found that the government's failure to recognize same-sex relationships violated the Constitution's Article 14 guarantee of equality and freedom from discrimination. Judge Takebe also found that there was no violation of Article 24, since it explicitly deals with opposite-sex marriages and has no bearing on the allowance of same-sex marriage. Despite finding a constitutional violation, Judge Takebe rejected the plaintiffs' claim for ¥1,000,000 (around $9,000 USD) in compensatory damages. She explained that she found no explicit violation of state reparations law.
The ruling comes as a sign of hope for same-sex couples in Japan. One plaintiff, who goes by the alias Rysuke Kunimi, said: "The chief judge said that the discrimination based on the natural difference of sexuality is a violation of Article 14. I could not stop crying." The plaintiffs' lawyer, Takeharu Kato, said he "never expected the court would rule this clearly," and that the legal battle may be taken to a higher court.
Another couple who filed a complaint was Ai Nakajima and Tina Baumann. Nakajima and Baumann had met and were married in Germany, where Baumann is originally from. The couple then moved to Yokohama and applied for their marriage to be recognized, but their application was rejected. This created issues concerning Baumann's visa status in the country. Regarding the new ruling, Nakajima said: "This is one huge step forward in Japan… we are moving closer to making our dream come true."
The district court's holding represents the first step in the government of Japan's potential recognition of same-sex relationships. For that to happen, there would need to be a final ruling from the Supreme Court of Japan, or a law passed in the National Diet, Japan's legislative body. Despite higher ratings approving of same-sex marriage amongst younger people, many argue that Japan's ruling party, the conservative Liberal Democratic Party, is unlikely to feel the same way. Regarding further victories in court, Mikiko Terahara, the executive director of Marriage For All Japan, believes that "the Sapporo ruling will undoubtedly have a positive impact on the ongoing same-sex marriage litigation in other regions."
For further information, please see:
BBC News – Gay couples sue Japan over right to get married – 14 Feb. 2019
BBC News – Japan court finds same-sex marriage ban unconstitutional – 17 Mar. 2021
CNN – Japan's failure to recognize same-sex marriage is 'unconstitutional,' court rules – 17 Mar. 2021
Constitute Project – Constitution of Japan 1946 – 3 May 1947
Marriage For All Japan – Home Page (Japanese) – accessed 21 Mar. 2021Marriage For All Japan – Home Page (Japanese) –  21 Mar. 2021
Supreme Court of Japan – Courts in Japan – 2020Supreme Court of Japan – Courts in Japan – 2020
The Japan Times – Japan court rules failure to recognize same-sex marriage unconstitutional – 17 Mar. 2021
TIME – A Court Ruled Japan's Same-Sex Marriage Ban 'Unconstitutional.' Here's What's Next for LGBTQ Rights – 17 Mar. 2021