By: Amanda Zumpano
Journal of Global Rights and Organizations, Associate Articles Editor
THE HAGUE, Netherlands -On February 3, 2023, the International Criminal Court (ICC) announced that there would be a confirmation hearing on August 22, 2023 in the case The Prosecutor v. Maxime Jeoffroy Eli Mokom Gawaka. The court believes that a charges hearing in August will be "an appropriate balance between the fair administration of justice and the need to ensure expeditiousness".
At this hearing, the court will determine if there is enough evidence to establish substantial grounds to believe that Mokom committed each crime that has been charged. The case will be transferred to the Trial Chamber if the cases are confirmed and then trial will commence.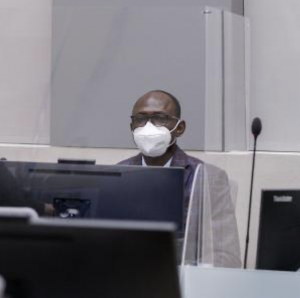 Mokom has been charged with crimes against humanity that include murder, extermination, torture and persecution. He has also been charged with several war crimes that consist of intentionally directing an attack against the civilian population, displacement of the civilian population, and mutilation. These crimes were committed mostly against the Muslim civilian population in the Central African Republic (CAR) and took place between December 5, 2013 and December 2014.
On March 2013, rebels known as Seleka seized power in the CAR, and their rise gave power to the Anti-Balaka. Mokom was responsible for coordinating these militias which committed crimes against civilians throughout the country. Tens of thousands of people were displaced due to the Seleka-controlled areas. The government tried to disband the Seleka forces but many ex-members committed counterattacks and caused chaotic violence and a humanitarian crisis in the CAR. UN peacekeepers have also been attacked and fifteen were killed in 2017. The ICC has been investigating the crimes since 2014. The Special Criminal Court (SCC), a UN-backed hybrid court is also permitted to prosecute crimes committed in CAR since 2003.
There was a warrant of arrest issued for Mokom on December 10, 2018 and the ICC took custody of Mokom when the authorities of the Republic of Chad surrendered him on March 14, 2022. The Chamber found reasonable grounds to believe that Mokom committed these crimes with the help of others or by furtherance of a policy that targeted the Muslim population and others perceived to support the Seleka.
The delay in obtaining justice for crimes under international law is often due to the difficulty in executing arrest warrants. Holding Mokom accountable is an important step forward in the fight against impunity in the CAR.
For further information, please see:
ICC – The Prosecutor v. Maxime Jeoffroy Eli Mokom Gawaka – 3 Feb. 2023
ICC – Mokom case: Confirmation of charges hearing scheduled for 22 August 2023 – 3 Feb. 2023
Amnesty International – Chad/CAR: Maxime Jeoffroy Eli Mokom Gawaka must face justice at the ICC – 15 Mar. 2022
Associated Press – Central African Republic alleged rebel appears at ICC – 22 Mar. 2022
Global Conflict Tracker – Instability in the Central African Republic – 11 May 2022
Reuters – ICC says Central African Republic war crimes suspect surrendered – 15 Mar. 2022
Author:
Elizabeth Maugeri