By Connie Hong
Impunity Watch Reporter, Europe
MOSCOW, Russia — Three members of a Russian feminist punk band, Pussy Riot, currently face up to three years of jail time for performing an anti-Putin piece on the altar of Moscow's Christ the Savior cathedral. The three women, Maria Alyokhina, Ekaterina Samutsevich, and Nadezhda Tolokonnikova, have all been charged with "hooliganism" and incitement of religious hatred. Despite the arrest of their band mates, the remaining members refused to back down on their protesting activities.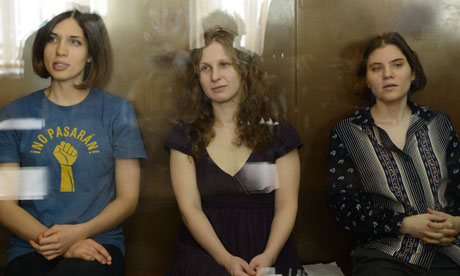 "Nobody can mute us, nobody can forbid us to do what we want… We want Russia to be a better place… We won't stop, we would do it again," proclaimed one band member that goes by the nickname, Terminator. "I hope somebody in the government realizes now they're doing something very awful, very bad and have to stop it."
Judge Marina Syrova will deliver her verdict for the trial of Alyokhina, Samutsevich, and Tolokonnikova on Friday, August 17. Since acquittals by Russian courts are extremely rare, the lawyer representing the three women is expecting a guilty verdict. Thus, the main question is not whether the women would be find guilty, but whether they will receive a suspended sentence or a jail term.
During trial, prosecutors have refused to acknowledge that the three women were engaging in political protest during their performance at the cathedral. Instead, they argue that the women sought to insult all of Russian Orthodoxy and have asked for a three-year sentence.
Tolokonnikova criticized their arrest as another example of Putin's "totalitarian-authoritarian system" silencing political dissent. The members of the punk band urged Russians to reject Putin's rule and embrace freedom.
"Even though we are behind bars, we are freer than those people," she said of the prosecutors, "We can say what we want, while they can only say what political censorship allows."
While defense lawyer Nikolai Polozov does expect a guilty verdict, he claims that the three women have already won thanks to the growing international attention surrounding the trial. Recently, public figures such as Madonna and Yoko Ono have sent the women messages of support and encouragement.
"When thousands of people will read and watch this, this freedom will grow with every caring person who listens to us in this country," said Alyokhina.
"I am not scared of you," she told the court, "I am not scared of lies and fiction, or the badly formed deception that is the verdict of this so-called court. Because my words will live on, thanks to openness."
For further information, please see:
BBC News — Pussy Riot allies to continue protests against Putin — 14 August 2012
The Telegraph — Pussy Riot's stunning victory over Putin's bureaucrats — 14 August 2012
Huffington Post — Pussy Riot Trial: Putin Mocked Over Feminist Punk Band Trial (PHOTOS)  — 10 August 2012
The Guardian — Pussy Riot trial: closing statement denounces Putin's 'totalitarian system' — 8 August 2012
Author:
Impunity Watch Archive