By: Hannah Gavin
Journal of Global Rights and Organizations, Associate Articles Editor
MOSCOW, Russia — Putin's strongest opponent, Aleksei A. Navalny faced new charges in court this Tuesday. Additional charges included embezzlement and contempt of court. These charges have the potential to extend his imprisonment by 15 years. Navalny faced these charges from a Penal Colony outside of Moscow where he is currently serving what should be the last year of his sentence.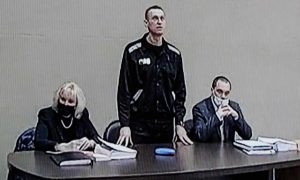 In February of 2021, a Moscow appeals court rejected Navalny's appeal of an original 2014 sentence for embezzlement. Navalny was originally sentenced to two years and eight months. On appeal, the judge reduced Navalny's sentence by just 45 days. Navalny was poisoned in August of 2020 by Putin and nearly died while at a hospital in Germany. When recovered, Navalny chose to return to Russia, knowing he would be imprisoned.
The new charges come amid tense escalations in the potential military action soon to occur by Russia in the Ukraine. Russia has been deploying troops as well as missiles and other tactical equipment to the Ukrainian border. Although this has not yet escalated into violence, the World has been waiting with bated breath to see what the Kremlin chooses to do. Aleski Navalny spoke at the end of January urging western nations to take a harsher stance against Russian military action in Ukraine. In response to the United States' meetings following Putin's demands, Navalny stated "instead of ignoring this nonsense, the U.S. accepts Putin's agenda and runs to organize some kind of meetings. Just like a frightened schoolboy who's been bullied by an upperclassman."
Navalny's imprisonment came as no surprise to him or the international community. As for the additional charges, Navalny claims Putin planned this to coincide with his potential invasion of the Ukraine. Hope does not remain high for Navalny in his pursuit of justice against these additional charges. Navalny has claimed that the hearing was purposely held in a remote area. Additionally, his lawyers were blocked from bringing their laptops to court which contained necessary legal documents.
Although whether or not Navalny will face another decade or more in Russian prisons is unknown, the outlook for his case seems grim given Putin's continuous attempts to suppress the opposition. Navalny will have his next hearing in this case on Monday.
For further information, please see:
NYT – Navalny Appears in Penal Camp Court to Face More Charges – 15 Feb. 2022
Time – Alexei Navalny Urges Biden to Stand Up to Putin – 19 Jan. 2022
Author:
Christian Gonzalez