By: Sydney Krause
Journal of Global Rights and Organizations, Associate Articles Editor
Managua, Nicaragua – On February 9, 2023, Nicaraguan authorities released hundreds of political prisoners to the United States, declaring them traitors and stripping them of their citizenship. The Inter-American Commission on Human Rights ("IACHR") condemned the prisoners' treatment during their detention and the "arbitrary deprivation of nationality," calling for Nicaragua to repeal recent legislation permitting the revocation of citizenship.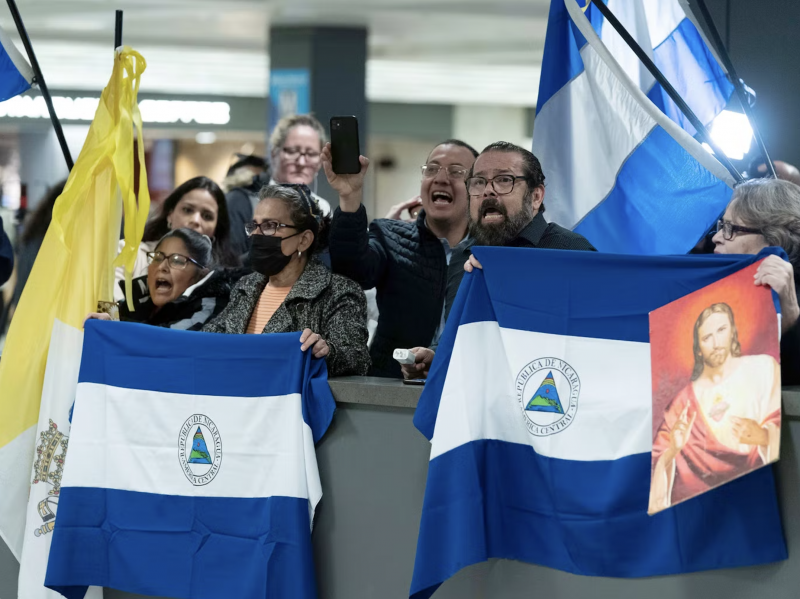 The 222 prisoners were met in Washington D.C. by a small group of relatives and supporters. They were deported per an order issued by the First Chamber of the Managua Court of Appeals, citing national security concerns related to terrorism and economic destabilization. The U.S. Department of State said the transfer was made "unilaterally" by Nicaragua, but that the United States organized transport of the political prisoners who would be admitted to the United States for "humanitarian reasons" for up to two years.
Many of the releasees – including students, political opponents, journalists, and priests – were detained during President Daniel Ortega's crackdown on political dissidents beginning in 2018. Mr. Ortega described the prisoner release as part of a drive to expel criminal provocateurs and traitors from the country. Shortly after their release, the National Assembly voted to strip them of their Nicaraguan citizenship.
The Special Reform Law amends Article 21 of the Political Constitution, the basis for determining Nicaraguan citizenship. The change states that "the acquisition, loss, and recovery of nationality will be regulated by law. [And] traitors to the homeland lose the quality of Nicaraguan nationality." The change also builds on Law 1055, known as the "sovereignty law," which establishes that citizens who "harm the supreme interests of the nation" are "traitors to the homeland." Under the amended Article 21, those sentenced under Law 1055 will lose their citizenship.
International law strictly prohibits the deprivation of nationality and rendering a person stateless. "Stateless" persons face immense legal concerns such as the loss of social security benefits, restriction of free travel, including to visit family, and the possibility of detention and prosecution by local authorities.
Nicaragua's unprecedented action has garnered criticism from states and agencies worldwide, including the United Nations refugee agency, the IACHR, and the U.S. State Department. The IACHR condemned Nicaragua's actions in its February 9 press release, citing international law and noting that Nicaragua has been a party to the Convention Relating to the Status of Stateless Persons since 2013.
Since the mass release, the Nicaraguan government has revoked the citizenship of at least an additional ninety-four people.
For further information, please see:
Associated Press – Nicaragua's vote to strip opponents of citizenship – 14 Feb. 2023
Constitution Net – In Nicaragua, constitutional amendment revoking citizenship for crimes against state expedited, pending approval in subsequent legislature – 10 Feb. 2023
Department of State – Press Statement: Release of Political Prisoners from Nicaragua – 9, Feb. 2023
Independent – Why has Nicaragua suddenly released more than 200 political prisoners? – 10 Feb. 2023
New York Times – Nicaragua Strips Citizenship from Hundreds Days After Prisoner Release – 17 Feb. 2023
New York Times – Nicaragua Frees Hundreds of Political Prisoners to the United States – 9 Feb. 2023
NPR – Nicaragua has freed 222 political prisoners and sent them to the U.S. – 9 Feb. 2023
OAS, IACHR – IACHR Welcomes Release of Political Prisoners in Nicaragua but Rejects Arbitrary Deprivation of Nationality – 13 Feb 2023
Prensa Latina – Law in Nicaragua withdraws nationality from traitors to the homeland – 9 Feb. 2023
Reuters – Defiant Ortega frees political prisoners in Nicaragua, expels them to U.S. – 9, Feb. 2023
Author:
Elizabeth Maugeri