By: Elyse Maugeri 
Impunity Watch Staff Writer
MANAGUA, Nicaragua – In late September of this year, President Daniel Ortega's ruling party introduced two new bills to Nicaragua's National Assembly. These bills are the Proposed Foreign Agent bill and Cybercrime bills. The aim of the new legislation is to severely restrict freedom of speech and limit the critics of the Sandinista party.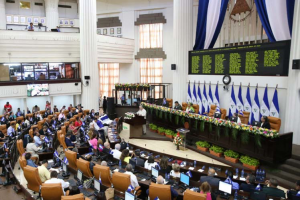 Human Rights Watch has noted the bills' likeness to similar laws in Russia. Those laws have notably been condemned by the Commissioner for Human Rights of the Council of Europe, as a violation of international norms; and have been the subject of litigation in the European Court of Human Rights more than once.
The Law for the Regulation of Foreign Agents is aimed at human rights organizations and media outlets operating in Nicaragua. These organizations fear that this law targets them specifically as many of them depend on foreign-based funding.
This bill requires any person or entity receiving funding directly or indirectly from abroad to register with the government as a "foreign agent." They also must register if they work for or represent the interests of a foreign government, foundation, or business. If they fail to do so, the consequences include fines, cancellation of registration, and seizure of property. Furthermore, if these "foreign agents" are found to have intervened in any domestic political affairs, they will face unspecified legal sanctions.
The Special Law on Cybercrimes is aimed at criminalizing those who spread "fake news" and other critical speech on the internet. Its provisions include lengthy criminal sentences for anyone found "publishing or disseminating false or distorted information" or any expression that "promotes hate and violence." Prison sentences are also outlined for any person using technology to disclose classified or "personal" information and for anyone "praising" criminal activity. The terms used are not further defined in the bill, leaving them up to interpretation.
Nicaragua has ratified both the International Covenant on Civil and Political Rights (ICCPR) and the American Convention on Human Rights (ACHR). Under these, countries may only limit free speech when necessary, and the limitations must be done proportionately. Both of the new bills work directly against the goals of the ICCPR and ACHR and are largely inconsistent with international law.
The Inter-American Commission on Human Rights (IACHR) expressed its concern in a statement in which it highlighted Article 13 of the ACHR, which establishes the right to freedom of thought and expression. They further point to the 2011 Joint Declaration on Freedom of Expression and the Internet of the IACHR and UN Special Rapporteurs that promotes freedom of expression as it applies to the internet, allowing only for limitations in circumstances in which international law would allow such as national security.
The decision by the Nicaraguan government to introduce these bills has only intensified international concern. Since 2018, journalists and independent media outlets have been targeted by the government. Emmanuel Colombié, of Reporters Without Borders stated recently, "we totally condemn this outrageous and unconstitutional bill designed to step up censorship and intimidation of Nicaragua's independent media. The national assembly must reject this draconian legislation, which would provide Daniel Ortega's government with a new repressive tool for silencing its critics."
For further information, please see:
Associated Press – Proposed Nicaragua law could muffle dissent – 23 Sept. 2020
Human Rights Watch – Nicaragua: Ortega Tightening Authoritarian Grip – 8 Oct. 2020
IACHR – The IACHR and its Office of the Special Rapporteur for Freedom of Expression express concern about new legal threats to freedom of expression and indirect measures against the media and journalists in Nicaragua – 7 Oct. 2020
Reporters Without Borders – RSF and PEN urge Nicaraguan legislators to reject "foreign agents" bill – 29 Sept. 2020