By: Alex Blake
Journal of Global Rights and Organizations, Associate Articles Editor
SAN JOSE, Costa Rica – In May 2020, Costa Rica became the first Central American Country, and sixth Latin-American country to Legalize same-sex marriage. The vast majority of Latin-American countries have been steadfast in suppressing the rights of LGBT people, recently, both Guatemala and Panama have filed legislation that explicitly defines marriage as between man and woman, keeping same-sex marriage illegal.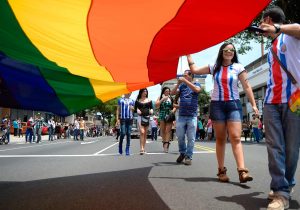 In 2016, the Costa Rican government began to show a serious interest in the legalization of same-sex marriage when it filed for the Inter-American Court of Human Rights to interpret the right to privacy and right to equal protection and whether these rights extended to same-sex couples. In its 2017 opinion, the Court held that governments "must recognize and guarantee all the rights that are derived from a family bond between people of the same-sex", and that it was discriminatory and inadmissible for separate legal provisions to be established just for same-sex marriages, the Court further went on to demand that member-governments "guarantee access to all existing forms of domestic legal systems, including the right to marriage, in order to ensure the protection of all the rights of families formed by same-sex couples without discrimination". Finally, the Court stated that transgender people should be allowed to change their name on identity documents. The Inter-American Court of Human Rights' rulings apply to all countries that have signed the American Convention on Human Rights (the "Pact of San Jose, Costa Rica", (1969)). When the Court delivered this opinion, it gave Costa Rica 18 months to adhere to its guidelines and adopt same-sex marriage.
While Costa Rica was making these incredible strides in Human Rights law toward acceptance of LGBT's and legalizing same-sex marriage, there was still major opposition within the country. Evangelical candidate Fabricio Alvarado ran against the progressive candidate Carlos Alvarado Quesada.

Carlos Alvarado Quesada of the center-left Citizen's Action Party campaigned on a pro-same-sex marriage platform and promised to implement the Inter-American Court of Human Rights' ruling as required to recognize such unions. On the other hand, right-wing candidate Fabricio Alvarado pledged to ignore the requirement if he was elected.
While the polls indicated a close election and there was much protest on both sides of this debate, Mr. Alvarado Quesada, the progressive, won the election rather handily. A few short months after the election, in August 2018, the Supreme Court of Costa Rica said that the country's ban on same-sex marriage was unconstitutional and started the 18t month grace period in which the country would have to legalize same-sex marriage, the Legislative body did not act, and in May 2020 the law was extinct. President Alvarado Quesada was quoted on the day of legalization saying, "Today we celebrate freedom, equality and democratic institutions".
Costa Rica seems to intend to keep pushing the envelope and further progress its laws to empower those of different sexual orientations and sexual identities in the future. Costa Rica must serve as an example for the rest of Latin-America and Central America and urge all other governments to follow its lead.
For further information, please see:
BBC News – Inter-American Human Rights Court backs same-sex marriage – 10 Jan.  2018
CBS News – Costa Rica becomes the first country in Central America to legalize same-sex marriage – 27 May, 2020
Human Rights Watch – Costa Rica First in Central America to Legalize Same-Sex Marriage – 26 May, 2020
PBS News Hour – Costa Rica legalizes same-sex marriage – 26 May, 2020