By Samuel Miller
Impunity Watch Reporter, North America and Oceania
PORT MORESBY, Papua New Guinea — On Tuesday, Papua New Guinea's Supreme Court ruled that Australia's practice of detaining asylum seekers on Papua New Guinea's ("PNG's") Northern Manus Island was illegal and must stop. Refugees and asylum seekers detained on Manus Island under Australia's off-shore processing system will be allowed to seek hundreds-of-thousands of dollars in compensation.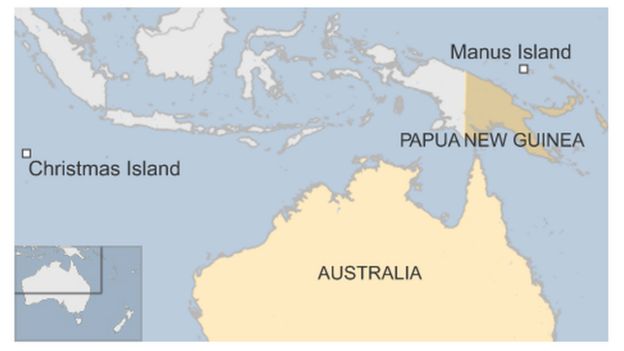 There are currently 850 men in the detention center on Manus Island; roughly half have been found to be refugees.
The five-man bench of the court ruled the detention breached the right to personal liberty in the PNG constitution. PNG's Supreme Court has ordered the PNG and Australian Governments to immediately take steps to end the detention of asylum seekers in PNG.
Of those currently located on Manus Island, the vast majority of men in the detention center have been found to be refugees. The court ruling said they were seeking asylum in Australia but were forcefully brought into PNG and locked in an Australian-funded center enclosed with razor wire.
In an excerpt released by the court as part of its opinion, the judges ordered: "Both the Australian and Papua New Guinea governments shall forthwith take all steps necessary to cease and prevent the continued unconstitutional and illegal detention of the asylum seekers or transferees at the relocation center on Manus Island and the continued breach of the asylum seekers constitutional and human rights."
Furthermore, Justice Terence Higgins said the detention also breached asylum seekers' fundamental human rights guaranteed by various conventions on human rights at international law and under the PNG constitution.
The camps have been widely condemned and many have called for their closure. Some detainees have been in the camps for more than three years.
Immigration Minister Peter Dutton has said the roughly 850 men being held at the Manus Island detention center will not be brought to Australia. In a statement on Tuesday afternoon, Mr. Dutton said the legal proceedings did not alter Australia's border protection policies, which he has said will remain unchanged.
Under Australia's controversial immigration laws, anyone intercepted while trying to reach the country by boat is sent for processing to camps in Nauru and Manus Island. They are never eligible to be resettled in Australia.
Mr. Dutton further stated that refugees at Manus Island could resettle in PNG, and those whose claims for asylum were rejected should return to their country of origin.
For more information, please see:
ABC News (AU) – PNG's Supreme Court rules detention of asylum seekers on Manus Island is illegal – 26 April 2016
BBC News – PNG court rules Australia's Manus detention centre unconstitutional – 26 April 2016
CNN – Papua New Guinea court rules Australian offshore detention center illegal – 26 April 2016
Reuters – Australia's asylum seeker detentions on PNG island ruled illegal – 26 April 2016
SBS – Manus Island asylum seekers to sue Australia over illegal detention – 26 April 2016
Sydney Morning Herald – Papua New Guinea court finds Australia's detention of asylum seekers on Manus Island is illegal – 26 April 2016
The Guardian – Papua New Guinea court rules detention of asylum seekers on Manus Island illegal – 26 April 2016
Author:
Impunity Watch Archive