By: Spencer Kwabena Boateng Mensah
 Impunity Watch News Staff Writer
TAKORADI, Ghana – On September 27, 2021, the police in Takoradi sent Josephine Panyin Mensah, 27, to court with charges of deceiving a public officer and publication of false news with intent to cause fear and panic.
The first charge was her acting, "with intent to evade the requirement of the Law, [because] she made statement to Public Officer and the general public that she was pregnant and kidnapped which she well knew at the time of making it to be false."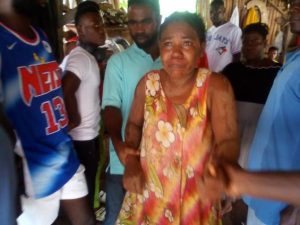 Her second charge was for "publication of statement which is likely to cause fear and alarm to the general public or to disturb the public peace knowing or having reason to believe that the statement is false."
Prosecutor Superintendent, Emmanuel Basintale told the court that the accused confessed faking her pregnancy and kidnapping to cover her alleged miscarriage in May 2021.
Husband of accused, Michael Simons reported to the police that his pregnant wife disappeared after she left her mother's home in the early morning for a walk on September 16.
According to the police, her mother Agnes Essel also received a call from an unknown caller the same day but she could only hear distressed voice of her daughter crying that she had been kidnapped. The accused was found after five days later at a church in a town nearby and was immediately taken to a hospital where she told of her alleged ordeal of being the sole survival among 12 other unknown kidnapped women.
The police say that she told them "she gave birth to a baby girl and afterwards fell unconscious [for] the second time and had no idea how she [survived]."
But doctors from two hospitals could not find any trace of postpartum sign or marks of violence within the last six days of her disappearance.   
The police investigations proved that there was no prenatal records nor diagnosis of pregnancy at the accused's original hospital. "Accused claimed she has been wearing a pregnancy prosthesis…but threw same into the bush while trekking."
The prosecutor added that "accused also admitted that the [number] through which she spoke to her mother was her old sim card which she discarded afterwards."
The accused pleaded guilty and has been bailed since her first appearance in court and the case has been adjourned to be reconvened on October 14, 2021.
Ghana has recorded several kidnapping and killing cases in recent times. One of the prominent cases is the kidnapping of three girls in Takoradi which particularly caused severe tension between the police and public in 2019.
For further information, please see:
Adom Online – Abesim Murder: Residents Accuse Suspect of Killing More People – 28 Aug. 2021
Citinewsroom – Takoradi Woman Pleads not Guilty in Court for Fake Pregnancy and Kidnapping – 27 Sept. 2021.
Ghana Web – Decomposed Bodies of 3 Kidnapped Takoradi Girls Found – 2 Aug. 2019.
Modern Ghana – We May Drag Fake Takoradi Pregnant Woman to Court – ACP Kwesi Ofori – 27 Sept. 2021
Author:
Kanalya Arivalagan