By: Michelle Leal
Journal of Global Rights and Organizations, Notes and Comments Editor
NEW ZEALAND – On January 7, 2020, the UN Human Rights Committee took a step towards protecting future climate refugees in its ruling of Ioane Teitiota v. New Zealand.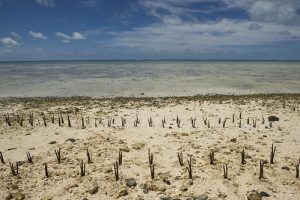 Ioane Teitiota, a national of Kiribati, sought refugee status in New Zealand. Teitiota claimed refugee status based on the changes to Kiribati's environment caused by sea-level rise associated with climate change. A refugee and protection officer declined to grant Teitiota refugee status. Teitiota appealed, but the Immigration and Protection Tribunal (IPT) dismissed Teitiota's case in June 2013. Over the next two years, Teitiota applied to the High Court, Court of Appeal, and Supreme Court for leave to appeal the IPT's decision. However, all three refused to grant leave to appeal. In September 2015, Teitiota and his family were deported from New Zealand to Kiribati. 
In February 2016, Teitiota brought a case against the New Zealand government at the UN Human Rights Committee (HRC). Teitiota claimed that by forcibly returning him to Kiribati, New Zealand violated his right to life under Article 6 of the International Covenant on Civil and Political Rights. Specifically, Teitiota argued that the rise in sea level and other climate change effects had caused Kiribati to be uninhabitable. Further, Teitiota claimed that there were violent land disputes caused by the increasingly scarce habitable land. Finally, Teititiota argued that environmental degradation made subsistence farming difficult, and saltwater contaminated Kiribati's freshwater supply. 
The HRC noted that while the right to life under Article 6 of the Covenant must be interpreted broadly, there is a high threshold for proving a real risk of a violation exists. With the high threshold in mind, the HCR ultimately rejected Teitiota's claim. 
Notably, the HRC expressly recognized the sudden-onset and slow-onset events caused by climate change that created a real risk that Kiribati may become submerged. However, the HRC found that this risk was not imminent as required for a violation under Article 6. Further, the HRC highlighted the Kiribati Government's current efforts to curb climate change and noted that there was still time for intervening acts by the international community to combat climate change. 
Additionally, the HRC rejected Teitiota's claim regarding violent land disputes caused by increasing unhabitable land. The HRC stated that Article 6's "risk to life" must be personal and that a situation of general violence was not enough. Since Teitiota was never personally threatened or involved in an instance of land violence, the land violence failed to be a violation under Article 6. Finally, the HRC determined that while farming and freshwater access became increasingly difficult, it was not impossible, and therefore, Teitioa's deportation did not violate Article 6. 
Although Teitiota's claim was unsuccessful, many regard the HRC determination as ground-breaking. The ruling set forth new standards that could facilitate the success of future climate refugee claims. Namely, the standard that states must consider human rights violations caused by the climate crisis when considering asylum seekers' deportation. With this landmark first step towards recognizing climate refugees and the number of climate-related refugees likely rising, it will be interesting to see how states handle these claims in the future. 
For further information, please see:
Amnesty International – UN Landmark Case for People Displaced by Climate Change – 20 Jan. 2020
New Security Beat – Climate Migration and Cities: Preparing for the Next Mass Movement of People – 19 Oct. 2020
Oxford Human Rights Hub – Teitiota v New Zealand: A Step Forward in the Protection of Climate Refugees under International Human Rights Law? – 28 Jan. 2020
UN Human Rights Committee, Refworld – Ioane Teitiota v. New Zealand – 7 Jan. 2020