By: Cody Lee Nagle
Journal of Global Rights and Organizations, Associate Articles Editor
THE HAGUE, Netherlands — Proceedings are currently underway at the International Criminal Court (ICC) to determine whether the Court's investigations into war crimes in Afghanistan are allowed to resume. The initial investigation began March 5, 2020, when the ICC prosecutor, Karim A. Khan, requested permission from the court to look into reported war crimes in Afghanistan by both Afghanistan and the United States.  Crimes alleged against the Taliban and ISIS affiliates include extreme deprivations of physical liberty, sexual abuse, and persecution of specific groups based on gender or political affiliation. The United States is accused of torture, sexual abuse and offenses to personal dignity both within Afghanistan and in "black sites" around the world.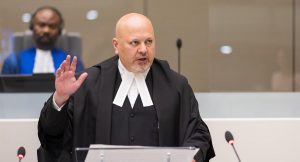 Prosecution of Islamic Republic of Afghanistan Continues After United States is Dropped from Investigation
Despite extreme opposition and a lack of cooperation by the U.S., the investigation was approved unanimously by the Court. Some may remember the strong rebuke by former Secretary of State Mike Pompeo upon learning of the investigation into U.S. actions overseas.
Shortly after the investigation began, on March 26, 2020, the process was halted when the Afghanistan government appealed to the court for a chance to investigate internally, instead of using ICC resources. Prosecutor Khan commended the cooperation and constructive engagement by the Government of Afghanistan, noting the enhanced accountability being enjoyed by victims of the atrocities in Afghan territories.
When Afghanistan's government fell to the Taliban in August of 2021, cooperation with the investigation ended abruptly. At that time the Prosecutor requested the Pre-Trial Chamber allow the investigation by his office to resume. However, Khan only requested authority to investigate the allegations of war crimes against Islamic State- Khorasan Province and the Taliban. Meaning other investigations previously included, such as those into the United States and CIA use of torture, would be deprioritized.
In his request Khan pointed to the gravity and scale of continuing crimes within Afghanistan, especially since the takeover of the Taliban. He also noted that doing any sort of on the ground investigation would likely be inadequate and ineffective given the lack of access to victims and information from the new government.
The decision has received widespread condemnation across human rights organizations who had hopes of holding the United States accountable for its actions within the borders of Afghanistan as well as in offshore sites in Poland, Romania and Lithuania. Even the Pre-Trial Chamber, in a separate decision, offered a slight rebuke to Khan for choosing to investigate specific parties instead of focusing on crimes first to then determine who was responsible.
While it is unclear exactly how the Chambers will rule on this request, recent developments in the court point to a decision coming soon. In October the Chamber requested the UN Secretary General to submit to the court a statement regarding who is currently representing the Islamic State of Afghanistan in order to determine procedures and set timelines for a possible resumption of the investigation.
For further information, please see:
Al Jazeera – ICC prosecutor defends dropping US from Afghan war crime probe – 6 Dec. 2021
Al Jazeera- Analysis: Can the ICC deliver justice in Afghanistan? – 4 Nov 2021
Foreign Affairs – The ICC's Flawed Afghan Investigation: Why the Court Shouldn't Let America Off the Hook – 3 Nov. 2021
ICC- Afghanistan: ICC Pre-Trial Chamber II requests the UNSG and the Bureau of the ASP of the ICC to submit information on the identification of the authorities currently representing the Islamic Republic of Afghanistan- 8 Oct. 2021
ICC- Decision on submissions received and order to the Registry regarding the filing of documents in the proceedings pursuant to articles 18(2) and 68(3) of the Statute – 8 Nov. 2021
ICC- Situation in the Islamic Republic of Afghanistan
ICC- Statement of the Prosecutor of the International Criminal Court, Karim A. A. Khan QC, following the application for an expedited order under article 18(2) seeking authorisation to resume investigations in the Situation in Afghanistan – 27 Sept. 2021
International Federation for Human Rights – Resumption of the ICC investigation into Afghanistan, while welcome, should not exclude groups of victims or crimes within the Court's jurisdiction – 28 Sept 2021
Author:
Christian Gonzalez