By: Nathanael Linton
Journal of Global Rights and Organizations, Associate Articles Editor
            On March 3, 2023, Ales Bialiatski, among other human rights activists, was sentenced by the Lieninski District Court of Minsk, under presiding Judge Maryna Zapasnik, to serve long-term prison terms. Mr. Bialiatski won the Nobel Peace Prize in 2022 for his "courageous work and dedication to promoting human rights and democracy in Belarus." He founded the organization Viasna to "provide support to incarcerated demonstrators and their families" who opposed Belarus' constitutional amendments made in 2016 to keep then-and-current President Alexander Lukashenko in power.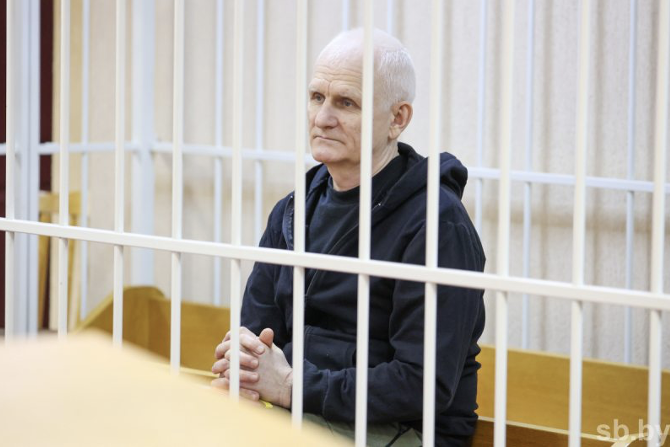 Mr. Bialiatski is currently serving ten years for being found guilty of "smuggling by an organized group" under Part 4 Article 228 of the Criminal Code, and for "financing of group actions grossly violating the public order" under Part 2 of Article 342 of the Criminal Code. However, this is not his first time being sentenced by the Belarusian government. In 2011, he was sentenced to three years for alleged tax invasion, and again in 2021 for protesting current President Lukashenko's administration for human rights violations committed by the Belarus government. To date, Mr. Bialiatski has been in Belarusian custody since July 14, 2021.
Human rights activists and opponents of the current Belarusian government have stated that the imprisonment of human rights activists is "politically motivated." In his defense, Mr. Bialiatski argues that "the activities of Viasna has been completely legal and comply with all international obligations of the Republic of Belarus." However, Judge Zapasnik has found the allegations against Bailiatski, as well as the other high-level leaders of Viasna organization, to be "fully proven." During their detainment, Mr. Staradubets, a spokesperson for Viasna, states that the conditions in which Mr. Bialiatski and others are being kept should be considered "torture." According to Staradubets, 'We call [it] torture because
they're being held for several months in a 19th-century building, poorly lit cells with no fresh air, no sunlight, poor food, [and] little to no healthcare." However, when confronted with allegedly imprisoning activists as a form of oppression, Mr. Lukashenko simply argues that all government opponents, including Mr. Bialiatski, were incarcerated for breaking the law. The recent decision now sends him to a medium-security penal colony.
            The incarceration of Mr. Bialiatski though is not the first time Belarus makes headlines for its troubling human rights issues. According to the Commissioner for Human Rights in the Council of Europe, Belarus made headlines after their 2020 presidential elections in which "various peaceful protestors were arrested, and other individuals reported missing." The right to life is being troubled by Belarus' numerous deprivations of liberty. These individuals' sacrifices should not be in vain, especially those of a Nobel Peace Prize laureate. In a country such as Belarus, whose actions have been condemned by various international bodies, work should be done to prosecute Belarus for its egregious and hostile actions toward workers of human rights. Our thoughts and prayers are with Mr. Bialiatski, his family, and all other human rights activists who still fight for justice despite their current conditions.
For further information, please see:
BBC News – Ales Bialiatski: Nobel Prize-winning activist sentenced to 10 years in jail – 3 Mar. 2023
Council of Europe, Commissioner of Human Rights – Press Statement: Belarus: today's conviction of Nobel Laureate Bialiatski and other human rights defenders is a blatant attack against justice – 3 Mar. 2023
Council of Europe, Commissioner of Human Rights – Press Statement: Human rights violations in Belarus must stop immediately – 21 Sept. 2020
PBS News – Belarusian court sentences Nobel laureate Bialiatski to 10 years in prison – 3 Mar. 2023.
U.N. Office of High Commissioner for Human Rights – Press Statement: Sentencing of Human Rights defenders in Belarus – 3 Mar. 2023
Viasna – Viasna leadership receives from 7 to 10 years in jail – 3 Mar. 2023
Wall Street Journal – Nobel Laureate and Activist Ales Bialiatski Sentenced to 10 Years in Belarusian Prison – 3 Mar. 2023
Author:
Elizabeth Maugeri