By: Marie LeRoy
Impunity Watch Staff News Writer
WASHINGTON D.C., United States – The Office of the Special Rapporteur for Freedom of Expression (SROF) has issued an statement sharing their deep concern with the criminal investigation against journalists in Guatemala.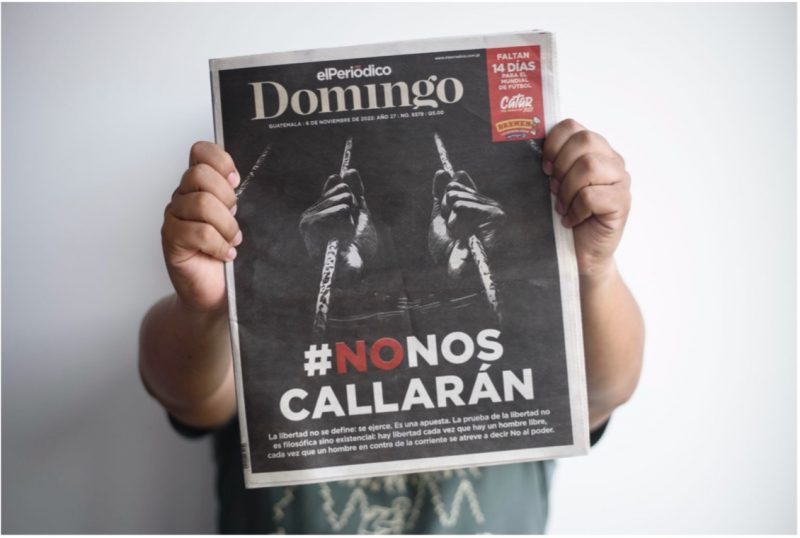 On February 28, 2023, an investigation was initiated against eight journalist who had all covered the criminal proceedings against journalist and government critical newspaper president José Rubén Zamora, who has been imprisoned since July 2022. The Guatemalan Prosecutor's Office argued that the journalists were attempting to "attack the personal sphere of the operators of justice" when covering Mr. Zamora's case. These news stories at issue discussed the disciplinary process of Mr. Zamora's case and questioned decisions by the judicial officials. The coverage of Mr. Zamora's criminal proceedings could, as according to the Guatemalan Prosecutor's Office, possibly be considered "obstruction of justice".
While Guatemala maintains that it recognized the fundamental right of freedom of expression it claims that the investigation into the journalists does not infringe upon that right. The state further states that this investigation does not seek to limit, restrict, or threaten this inherit right but seeks to discover whether the journalists, in their capacity as journalists, knowingly spread false information to influence or hinder the criminal proceedings against Mr. Zamora.
Organizations around the world have responded to this threat to freedom of speech and democracy by voicing their objections to the investigation. The president of the Guatemalan Association of Journalists, Mario Recinos, stated that this is a "deterioration in rights" and compared this action to the Nicaragua's government who famously have destroyed the rights of journalists. The Committee to Protect Journalists has also publicly urged the end to the investigation and let Zamora go. They stated that the criminal investigation of the journalists are a pointed attempt to "intimidate and harass an investigative outlet and journalists working tirelessly to expose corruption." PEN International appealed to Guatemala to stop the "harassment of journalists." The United States Department of State also joined the outcry by issuing their own statement urging Guatemala to support journalists and journalistic functions for the health of the Guatemalan democracy.
SROF warns of the potential consequences of bringing a criminal action against the rights of the journalists' ability to inform and report and the correlating right of the public to be informed in relation to the continuation of democracy.
SROF calls on Guatemala to adhere to the international standards on freedom of expression for all criminal investigations against the press.
For further information, please see:
AP – Judge orders investigation of Guatemalan journalists – Feb. 28, 2023
CPJ – CPJ calls for Guatemala to halt investigation into elPeriódico journalists – Feb. 28, 2023
Global Investigative Journalism Network – In a Hostile Climate Guatemala's Journalists Fear the Law Being Turned Against Them – Feb. 13, 2023
OAS — SRFOE expresses concern about the opening of a criminal investigation against journalists in Guatemala for their coverage of matters of public interest – Mar. 29, 2023
PEN – Guatemala: Authorities Must Stop Legal Harassment of Journalists – Mar. 9, 2023
U.S. Department of State – Persecution of Journalists in Guatemala—Mar. 2, 2023