By: Thomas Harrington
Journal of Global Rights and Organizations, Lead News Editors 
ARUSHA, Tanzania – Amnesty International released a report in October 2020 called: The State of African Regional Human Rights Bodies and Mechanisms 2019-2020 (Report), regarding African Human Rights entities. The Report contains troubling information about the declining effectiveness of human rights organizations in Africa.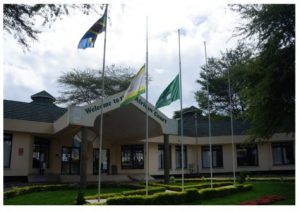 The African Court on Human and Peoples' Rights (AfCHPR) was one of the organizations specifically written about by Amnesty International. This is the second year that Amnesty International has written the report, and the concern for the AfCHPR has only continued to grow.
The main issue facing AfCHPR is that some African governments aren't respecting it or it's decisions. In fact, as a result of its decisions, four African countries have withdrawn a large part of the AfCHPR's jurisdiction. Under Article 34(6) of the African Court Protocol, countries that have committed to the article are bound by the AfCHPR agreed to allow individuals and non-governmental organizations (NGOs) to file cases in the AfCHPR after they have exhausted all possible legal means within their country. Article 34(6) essentially allows parties that are not African governments to file their cases in the AfCHPR if they cannot get adequate assistance through their own country's legal process.  
Rwanda became the first country to withdraw its commitment to Article 34(6) back in 2016. The AfCHPR was set to hear a claim by Victoire Ingabire, a Rwandan opposition politician who was imprisoned for genocide denial by the Rwandan government. The Rwandan government claimed their withdrawal was to "prevent exploitation of the individual complaint procedure by criminals, particularly individuals who took part in the 1994 genocide and have subsequently fled the country."
In the last two years, three other countries have followed suit and withdrawn their commitment to Article 34(6) of the African Court Protocol. The AfCHPR home country of Tanzania announced its intention to withdraw its commitment to Article 34(6) back in November 2019. Most of the cases that the AfCHPR has decided have been against Tanzania and most of its pending cases are also against the home country. Tanzania claimed that its withdrawal was due to the AfCHPR accepting cases from claimants that haven't exhausted their legal remedies, however, no particular case was pointed to and there seems to be no evidence of it.
In 2020, Benin and Côte d'Ivoire both announced their intentions to withdraw their commitments to Article 34(6). These announcements came after the AfCHPR had ordered that both states take measures to prevent "the exclusion of opposition candidates from upcoming elections, although Benin authorities indicated Benin had communicated its withdrawal on March 16, 2020." 
With those four countries backing away from the AfCHPR jurisdiction leaving only eleven African nations bound by Article 34(6), the Court seems to be losing effectiveness at an exponential rate. These issues along with reduced decisions and the impact of Covid-19 on its meeting time have led to a drop in importance for the AfCHPR. Governments are not respecting the Court's decisions and the Court appears to be getting quieter.
For further information, please see:
Amnesty International – The State of African Regional Human Rights Bodies and Mechanisms – Oct. 2020
Amnesty International – Regional Human Rights Bodies Struggle to Uphold Rights Amid Political Headwinds in Africa – 20 Oct. 2020
International Justice Resource Center – Benin and Côte d'Ivoire to Withdraw Individual Access to African Court – 6 May. 2020
International Justice Resource Center – Rwanda Withdraws Access to African Court for Individuals and NGOs -14 Mar. 2016