By: Alexis Eka
Impunity Watch Staff Writer
DAR ES SALAAM, Tanzania – Democracy in Tanzania is being threatened. John Magufuli, the president who began his term in 2015, has faced public backlash for his decisions that have eroded civil liberties. In January 2020, President Magufuli promised that elections scheduled for October 28, 2020 would be free and fair. However, it soon became clear that President Magufuli had other plans in mind.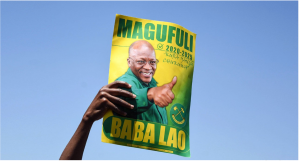 President Magufuli restricted local organizations from monitoring voter turnouts and harassed his opponents, several local newspapers, and journalists for their disparaging coverage of him in his presidential capacity. The sub-Saharan African representative for the Committee of Protect Journalists, Muthoki Mumo, stated that since January 2020, the government has restricted at least six different social media sources including Twitter and WhatsApp, ranging from periods of one week to one year. The authorities also directed telecommunication companies to censor longer messages and voice services in the midst of reports that cellphone users were restricted from loading and sending messages featuring the names of Magufili's opposing candidates.
Several human rights organizations have been exempt from observing and publishing commentaries about the election. These groups include the Legal and Human Rights Center, a group that is tasked with coordinating non-governmental organizations that have traditionally overseen the Tanzania's polls.
Numerous groups have made clear that police forces and governmental authorities have targeted them and accused them of hosting unauthorized meetings as well as conspiring against the president. These allegations have led to violence for individuals that have openly declared opposition to president Magufili. For example, authorities have created obstacles for opposing party members who have attempted to campaign in good faith. Many of these party members failed to obtain proper accreditation for their poll watchers who sought to help with the election. The United Nations secretary-general, António Guterres addressed Tanzania's political leaders and their allies to "refrain from violence".
As elections occurred on October 28, 2020, the presidential candidate for the opposing party, Tundu Lissu, stated that his agents were denied entrance to polling stations to cast their votes.  Lissu and his agents were detained by the police authorities after inducing street protests against the leaders in East Africa. Lissu sought refuge at the German ambassador's residence in Dar es Salaam, claiming that his life was being threatened as a result of the contentious election. Lissu claims that telephone calls to the Dar es Salaam head of police Lazaro Mambosasa, remained unanswered. "I just want a safe passage out of the country, given the deterioration in the security situation for myself," Lissu said. The police contend that Lissu was in safe conditions and that there were no threats or issues of election-related violence.
While political leaders from the opposing party have been scrutinized and arrested and with the current slow of social media outlets, many feared that the president's win, will make the country inevitably lose. Dan Paget, a politics professor at the University of Aberdeen stated, "This is the election where any resemblance Tanzania bears to democracy probably ends".
Despite the Covid-19 pandemic, more than 29 million citizens voted at more than 80,000 polling stations in Tanzania as they sought to elect a new president, appoint new lawmakers, and local counselors. There is a common fear amongst Tanzanians that president Magufili's re-election would be accompanied by harsh political and constitutional changes that include the dismissal of term limits as well as additional restrictions on civil liberties. Large protests could derail the progress made by Tanzanians in their search for economic stability, but the government and president Magufili continue to put pressure on the backs of those seeking and advocating for change.     
For further information, please see:
Bloomberg – Tanzania Opposition Leader Seeks Refuge with German Ambassador – 07 Nov. 2020
NYTimes – As Tanzania Votes, Many See Democracy Itself on the Ballot – 29 Oct. 2020
The Economist – Democracy is faltering in Tanzania and Ivory Coast – 5 Oct. 2020
The Economist – President Magufuli is likely to win an unfair vote in Tanzania – 22 Oct. 2020