By: Hannah Gavin
Journal of Global Rights and Organizations, Senior Associate Member
LUSAIL, Qatar – Kicking off on November 20th, the FIFA World Cup began in Lusail, Qatar. The World Cup, while typically a joyous occasion, has been shrouded in questions about the civil rights status of many living within Qatar. Primarily these concerns which have garnered international attention, include issues with LGBTQIA+ people and migrant workers. Although some hope was given that there would be some mitigation of these issues prior to the start of the game, no such hope remains.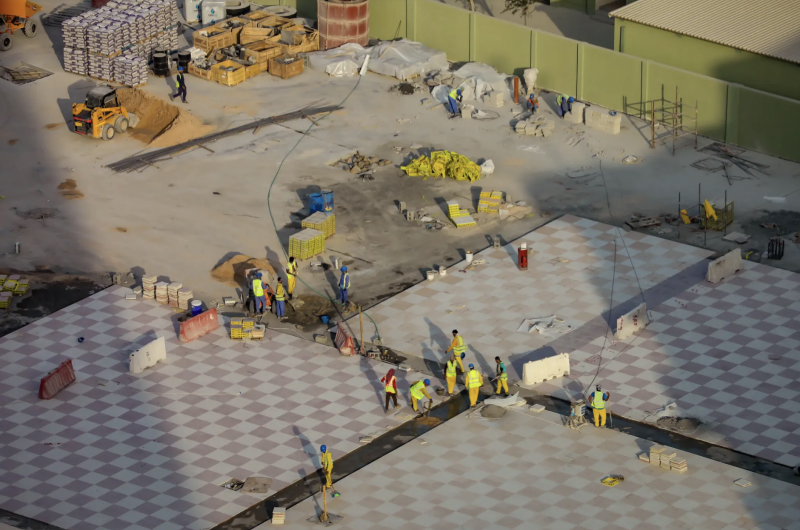 Qatar is a small, oil-rich shore country on the Persian Gulf. The nation is a traditionally conservative Muslim nation which adheres to a strict interpretation of Islam. Many in the International community feared that the nation was not open enough to Western ideals to accommodate such a multicultural event. One concession Qatar made was to allow alcohol to be consumed within the stadiums. However, just two days before the first match, the country reneged on this promise and made the stadiums go dry.
One of the most prominent issues in the nation is its treatment of LGBTQIA+ people. It is illegal to be gay in Qatar. Any act that is considered "immoral" can lead to a prison sentence. Fans have feared that it may not be safe for LGBTQIA+ visitors in the nation. Despite reassurances from Qatari leaders, since the commencement of the games, there have been several instances of fans being forced to change out of rainbow dress and players being banned from wearing rainbow armbands. Although, so far, LGBTQIA+ fans within the designated stadium zones have gone unharmed, outside of the designated zones they do not have the same protections.
Another human rights issue in Qatar is the treatment of migrant workers. In the past decade, Qatar has welcomed millions of migrant workers in an attempt to make up for a lack of cheap labor within the country. Over three million migrants currently live in the nation. These workers worked in horrid conditions, getting paid on average less than $300 per month. Although Qatar claims less than 50 workers have been killed in the building of the stadiums, other estimates are in the thousands. Beyond this, many workers have been under the complete control of their employers with almost no autonomy. While many gather in the stadiums built by migrant workers, there are families across mainly southern Asia whose loved ones will never return.
Despite these serious concerns, the World Cup in Qatar will go on. The event is estimated to draw in over $10 billion for the country. Although a massive success even despite the controversy, no attendee can ignore that past the glitz and glam, there are real lives at risk in the small country. Once the matches end and the pitch is cleared, these individuals will have to continue on in a nation in which they are not valued.
For further information, please see:
Britannica – Qatar: Host of the 2022 World Cup – 2022
Human Rights Watch – Qatar: Security Forces Arrest, Abuse LGBT People – Oct. 24, 2022
NPR – Here are the things World Cup fans are restricted from doing in Qatar – Nov. 19, 2022
NYT – The World Cup's Forgotten Team – Nov. 16, 2022
Author:
Elizabeth Maugeri