By: Zoe Whitehouse


Impunity Watch Reporter, South America
TEGUCIGALPA, Honduras – The Honduran Supreme Court has delayed the criminal trial regarding the murder of Berta Cáceres. Cáceres, an internationally known environmental and indigenous activist, was shot to death inside her home in La Esperanza in Western Honduras on March 2, 2016.
Amid claims of impartiality, international lawyers representing the family of Berta Cáceres have filed to suspend the trial. Attorneys allege the presiding judges have abused their authority. During pre-trial, judicial decisions and omissions had violated the due process rights of the victim's family. In one instance, the Court had failed to sanction the public prosecutor for ignoring a court order to provide evidence to the family's legal team. The attorneys have argued this demonstrated a "disregard for the rule of law," and have requested the recusal and replacement of three presiding judges.
Lawyers for the Cáceres family have also filed five injunctions with the appellate court. One injunction challenges the court's decision to reject witnesses, experts, and documentary evidence. The legal team believes this evidence would demonstrate a greater criminal conspiracy.
Cáceres was a vocal critic regarding hydroelectric-dam construction in Western Honduras. In 2015, a year before her death, she was awarded the Goldman Environmental Prize for her efforts to stop the Agua Zarca project along the Gualcarque River. Cáceres had filed complaints, organized local assemblies, and led protests regarding the negative impact of the proposed dam for indigenous communities. Her campaign reached greater international recognition when she brought the case to the Inter-American Human Rights Commission.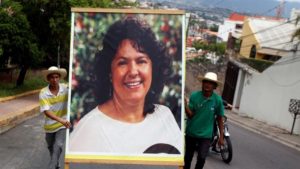 While Cáceres garnered international acclaim for her efforts, military officials and high-profile business associates continued to issue death threats against her. Cáceres had reported receiving 33 death threats for her campaign against the Agua Zarca dam. In early 2017, Roberto David Castillo Mejia, the former CEO of Desarrollos Energéticos S.A., the Honduran company responsible for the Agua Zarca dam project, was arrested and charged. Prosecutors alleged Castillo Mejia acted as the "intellectual author" of Cáceres's murder. He is not currently part of the suspended trial.
For further information, please see: 
Al Jazeera – Trial for murder of Honduran activist Berta Caceres delayed – 17 September 2018
The Guardian – Berta Cáceres murder trial delayed after judges accused of abusing authority – 17 September 2018
The New York Times – Trial for Murder of Honduran Environmental Activist Delayed – 17 September 2018
Author:
Impunity Watch Archive