By: Christopher Martz
Journal of Global Rights and Organizations, Associate Articles Editor
ERBIL, Kurdistan Region – On January 26th, 2021, Hind Latif Al Khadir and Sa'da Faysal Al Hermas, political leaders of the Kurdish-led autonomous region in northeastern Syria, have been found beheaded after being kidnapped, in an attack blamed on the Islamic State group. The two women, who were found dead in Al Dashisha in the countryside of northeastern Syria's Hasakah province, were known for their work for local institutions within the Autonomous Administration of North and East Syria (AANES).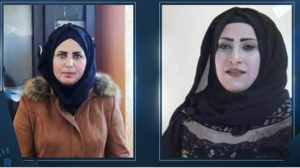 A continuous pattern of violence against Kurds, and specifically women in northeastern Syria, culminated in their kidnapping from their homes by unknown men. The Syrian Observatory for Human Rights (SOHR) reported that they were both found dead hours after being kidnapped. Hind Latif Al Khadir was head of the economy committee of the town of Til Shayir, while Sa'da Faysal Al Hermas was co-president of the town's people's council.
Local councils in the region and news outlets condemned the crime and blamed their kidnapping and death on ISIS sleeper cells. Crimes of this variety have been common in the region, with the goal of destabilizing security and stability, while spreading terror among the people. Opponents of the autonomous administration, notably ISIS and Turkish backed militias, have targeted politicians involved with the organization in the past. A notable victim of a similar crime was Hevrin Khalaf, a politician with the Future Syria Party. He was assassinated by the Turkish-backed armed group Ahrar Al Sharqiya in October 2019.
According to SOHR, at least 234 people have been killed by ISIS sleeper cells in northeastern Syria since June 2018.
The news of their deaths brings to focus the ongoing ISIS emergence in Syria. Since the organization's takeover of large swaths of Syria and Iraq in 2014, several US-backed military campaigns whittled away at the terrorist organization. The Kurdish-led Syrian Democratic Forces (SDF), an armed group linked to AANES, expelled the militants from their last patch of land in the Dayr Az Zawr village of Baghouz, located south of Sousa in 2019. Yet violence continues to spread in the name of the organization, often targeting women and those most vulnerable in war-torn Syria.
Since the overthrow of the group, the SDF and AANES have managed tens of thousands of prisoners and displaced people in the region, including ISIS relatives and fighters from around 50 countries. Adding to the crisis, western nations have been largely reluctant to repatriate their ISIS-linked nationals held in northeast Syria, though some have brought home women and children on a case-by-case basis.
While crime has largely targeted political leaders in the region, murder and violence have plagued many of the refugee camps offering protection from similar violence. Just last week, the UN reported that 12 murders had taken place in Al Hol camp in northeast Syria in just over two weeks, sounding the alarm over an increasingly untenable security situation.
While outlets and governments have reported the deterioration of the ISIS presence in the region, violence continues to plague those most vulnerable to the present instability. Women and refugees are still at high risk, requiring more protection and action from the region and the international community at large.
For further information, please see:
Kurdistan24 – Two local female politicians abducted and killed in northeast Syria – 24 Jan. 2021.
MEE And Agencies – Two female members of Kurdish-led administration in Syria found beheaded – 26 Jan. 2021.
Rudaw – Two Rojava municipal council women assassinated: reports – 23 Jan. 2021.
Syrian Observatory for Human Rights –  After threats in 2018, ISIS executes two female officials in the Autonomous Administration in southern Al-Hasakah – 23 Jan. 2021.