By: Natalie Maier
Impunity Watch, Press Freedom                                                                                                                                                               
YANGON, Myanmar — Two Reuters journalists imprisoned under Myanmar's Official Secrets Act filed an appeal Friday with the Supreme Court to overturn their convictions.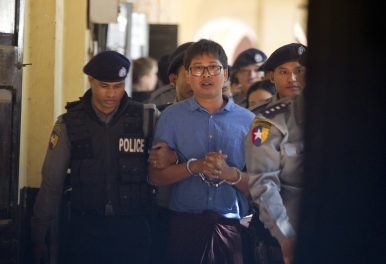 Wa Lone and Kyaw Soe Oo have been in prison for over a year now. The pair were arrested on December 12, 2017 and charged with violating the Official Secrets Act, a colonial-era law that punishes the distribution or publication of documents that may be "useful to the enemy."
Prosecutors claim that the two obtained important and secret state documents relating to a military campaign in Rakhine State by the Myanmar army. Since 2016, over 680,000 Rohingya Muslims have fled the area amidst genocide. The United Nations has opened up an investigation into the crisis, calling it "ethnic cleansing."
Lone and Soe Oo, reporters for the Reuters news agency, had been investigating a mass grave in the city of Inn Din. They claim that they were framed by police, who handed them documents, and then arrested them for possession.
On January 11, 2019, an appellate judge upheld the original conviction of 7 years in prison for hard labor. This appeal claims that lower court rulings involved errors in judicial procedure. Khin Maung Zaw, counsel for the journalists, said the lower courts did not properly evaluate witness testimony. Observers at the trial described testimony of the prosecution as vague and contradictory. However, one police officer who testified for the prosecution admitted that the two journalists were indeed the target of a sting operation.
The case has caught the attention of human rights and free speech advocacy groups around the world. Concerns about the status of press freedom in Myanmar are growing, with 43 journalists arrested wince 2015.
For more information, please see:
1 February 2019 – AP/The Diplomat –  Landmark Myanmar Press Freedom Case Set for Supreme Court Appeal 
2018 – PEN America – Wa Lone and Kyaw Soe Oo