By: Madison Kenyon 
Impunity Watch Staff Writer 
KINSHASA, Congo — On November 7, 2019, the Trial Chamber VI of the International Criminal Court (ICC) unanimously sentenced Bosco Ntaganda, nicknamed the "Terminator of the Congo," to 30 years imprisonment. The time Ntaganda spent in the ICC's custody, which is between March 22, 2013 to November 7, 2019, will however be deducted from this sentence. This sentence arose from the court's previous decision in July 2019, which found Ntaganda guilty of 18 counts of war crimes and crimes against humanity.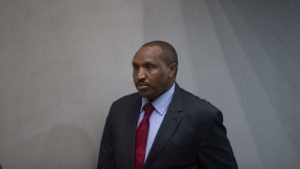 Ntaganda's conviction and sentencing are hallmark occasions for the ICC for a couple of reasons. First, Ntaganda is the first person the court has convicted of sexual slavery and crimes of sexual violence against his own troops. Second, this is the longest imprisonment sentencing the court has ordered since its creation. Many international human rights organizations find this decision and sentencing to be quite promising for future cases brought against international criminals. Specifically, Ida Sawyer, the deputy Africa director of Humans Rights Watch, stated that Ntaganda's sentence "sends a powerful message that those who commit serious crimes against the people, no matter their positions, can be held to account."
Despite the court not finding any real mitigating factors for Ntaganda's case, the Trial Chamber believed that the conditions present did not warrant life imprisonment. As specified by the Rome Statute, life imprisonment may only be provided "when justified by the extreme gravity of the crime and the individual circumstances of the convicted person." Thus, the Trial Chamber determined that the maximum sentence of 30 years allotted by the Rome Statute would suffice. The court also held that it would not be appropriate to impose a fine or forfeiture of proceeds in addition to the imprisonment.
Although the defense has 30 days to appeal this sentence, Ntaganda and his lawyers have already moved to appeal this. Also, the court still must determine how much compensation the victims should be awarded. Therefore, this is not the last time the ICC will hear Ntaganda's name in its chambers.
For further information, please see: 
ICC – Bosco Ntaganda Sentenced to 30 Years' Imprisonment – 7 Nov. 2019 
NPR – 'Terminator' of Congo, Bosco Ntaganda, Gets Historic 30-year Sentence for War Crimes – 7 Nov. 2019 
BBC News – Bosco Ntaganda Sentenced to 30 Years for Crimes in DR Congo – 7 Nov. 2019
Impunity Watch – Bosco Ntaganda Convicted: A Long-Awaited Victory by the ICC – 19 Sept. 2019 
ICC – Rome Statute of the International Criminal Court – 1 July 2002