By: Madison Kenyon 
Impunity Watch Staff Writer 
DAMASCUS, Syria — On Sunday, October 20, Syrian Kurdish forces began their withdrawal from Ras al-Ayn, a town along the Syrian border. This withdrawal is part of a cease-fire negotiated by the United States' Vice President, Mike Pence, and Secretary of State, Michael Pompeo with Turkey's President, Recep Tayyip Erdogan. This cease-fire began Thursday, October 17, and will end on Tuesday, October 22. By Tuesday evening, the Kurdish forces must not only have all soldiers removed from Ras al-Ayn, but also, they must withdraw from a zone about 75 miles wide and 20 miles deep between Ras al-Ayn and the town of Tel Abyad.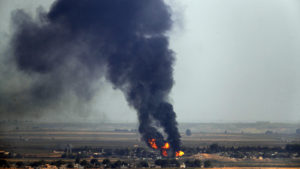 Despite the Kurdish forces' withdrawal from this zone, Turkey states that this is not enough. Rather, Erdogan wants the Kurdish forces to withdraw more than 260 miles from the Syrian border.  He has vowed that if the forces fail to do so, he will "continue to crush the terrorists' heads." Erdogan's persistency to remove the Kurds from the Syrian border comes from his belief that the presence of any Kurds along the Turkey border is an "existential threat" to Turkey.
This tension between Turkey and the Kurds stems from years of conflict. The Kurds, a largely Muslim ethnic group, are one of the largest groups of people without a state of their own (despite being promised one after World War I). Due to this, for years, a Kurdish militant group has launched attacks throughout Turkey in an attempt to achieve autonomy. Therefore, Turkey sees the Kurdish forces located in northern Syria as linked to this militant group. Thus, Turkey argues that it wants to create a "safe zone" between the Turkey-Syrian border. It also argues that it wants to resettle at least a million refugees living in Turkey who were displaced by the Syrian war into this zone.
Previously, the U.S. has backed the Kurds in their defense against Turkey. However, recently, President Donald Trump signed an executive order withdrawing U.S. troops from northern Syria. The Kurds have now had to turn to Bashar al-Assad, Syria's leader, and Vladimir Putin, Russia's President, for help in this conflict.
Since President Trump's decision to withdraw troops from Syria, over 200,000 people have been displaced. Many of these people blame President Trump for this displacement. One 70-year-old Kurdish man, forced to flee from his home in Ras al-Ayn, stated, "This was a clear betrayal by the Americans. The Turks never would have done what they did had the Americans stayed."
This criticism is what led the U.S. to negotiate this cease-fire. However, despite the Kurds' current withdrawal, both sides claim that the other side still repeatedly violates the cease-fire. For example, Turkey's Defense Ministry stated that the Kurds killed one of its soldiers today during an attack.
It is hard to believe that this cease-fire will make any real difference in this conflict. Rather, the world is awaiting to see what happens at the Turkey-Syrian border Tuesday evening once the cease-fire ends.
For further information, please see: 
Time – Kurds Begin to Evacuate Besieged Syrian Border Town – 20 Oct. 2019
Washington Post – The Latest: Kurdish Fighters Pull Out of Syrian Border Town – 20 Oct. 2019
Bloomberg – Syrian and Kurdi News: Trump Approach to Turkey Syria Incursion – 20 Oct. 2019
Los Angeles Times – 'How Long Can We Live Like This?': Kurds in Growing Refugee Camp Plead for Help, End to Losses, Suffering – 20 Oct. 2019
CBS News – Turkey's Involvement in Syria's Civil War: The Complicated History of How We Got Here – 15 Oct. 2019