By: Jessica Senzer
Journal of Global Rights and Organizations, Senior Associate Member
UNITED STATES – On Friday, January 6, 2023, a six-year-old boy shot his teacher at Richneck Elementary School in Newport News, Virginia. Police Chief Steve Drew said that the shooting was not an accidental one and that there was an altercation between the teacher and student that led to the shooting. Following the incident, Newport News Public Schools Superintendent, Dr. George Parker decided to keep the school closed on Monday, January 9, and he stated that "we need to educate our children and we need to keep them safe." Superintendent Parker further expressed, I'm sounding like a broken record today because I continue to reiterate that… we need to keep the guns out of the hands of our young people."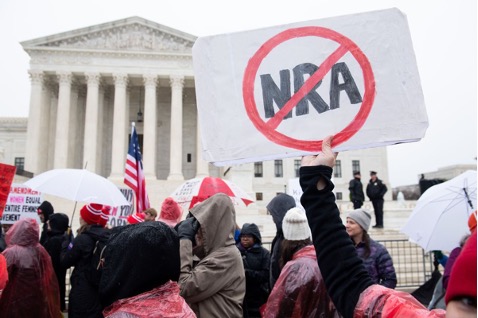 Dr. George Parker is not the only American to feel as if inadequate actions have been taken to address the rising concerns regarding gun control in America. Nabeela Syed, a newly elected member of the Illinois state legislature, grew up in Generation Z, a generation that "grew up on active shooter drills." Syed recently stated that "sometimes it's frustrating, being a younger person and feeling like we've been crying out for this and feeling unheard." Despite Americans' consistent pleas for action to be taken to stop the increase in gun violence across the country, the Supreme Court of the United States recently took the opposite actions.
On June 23, 2022, in the now-landmark case New York State Rifle & Pistol Ass'n, Inc. v. Bruen, the Supreme Court found a New York state concealed carry law to be unconstitutional on the grounds that it violated the Second and 14th Amendments. The concealed carry law required a prospective gun owner to prove that "proper cause" existed before they could legally carry a concealed pistol or revolver in public. The Court held that this "proper cause" requirement prevented law-abiding citizens with self-defense needs from exercising their right to keep and bear arms.
In the opinion, Justice Thomas references two major gun rights cases, District of Columbia v. Heller and McDonald v. Chicago. Both of these historic gun rights cases recognize the right to keep and bear arms inside the home for purposes of self-defense. The Bruen opinion, however, expanded the constitutionally protected right to keep and bear arms, holding that an individual also has the right to carry a gun for self-defense outside of the home. Amidst concerning increases in gun violence nationwide and sweeping pleas for more gun control, the Supreme Court acted contrary to the cries of the American people, and the repercussions are palpable.
For further information, please see:
CNN – 6-year-old in custody after shooting teacher in Virginia, police chief says – Jan. 7, 2023
NYSBA – The Supreme Court's Bruen Decision and Its Impact: What Comes Next? – Aug. 9, 2022
U.S. News – Growing Into Leadership After Growing Up With Shootings – Nov. 28, 2022
Author:
Elizabeth Maugeri