By Tyler Campbell
Impunity Watch Reporter, Africa
CAPE TOWN, South Africa – A proposed student fee increase by the by the finance minister, Nhlanhla Nene, ended with students being tear gassed and hit with stun grenades last week in South Africa. Students were trying to stage a sit-in on the mid-term budget meetings to show their frustration with the proposed fee increases to higher education in 2016. Police responded with force when the students forced their way into the parliament complex in Cape Town. This clash with students continued outside of the parliament complex, where students threw bottles at police and chanted, "We want Blade, We want Blade." These chants referred to Blade Nzimande, the education minister.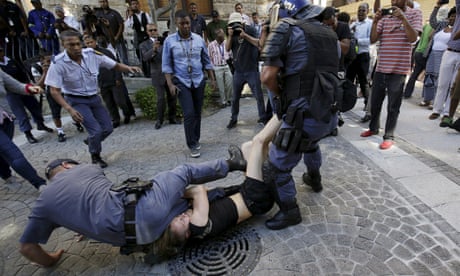 This one incident is not an isolated occurrence. Students all around South America have mobilized to protest the proposed increases to student fees for the country's universities. The movement has been named the #FeesMustFall movement, based on the twitter handle used by the group to organize events around the country. The group is made up of students who are worried that the 10% to 15% fee increase will lead them to a lifetime of debt. Many of the students find themselves in a gap between the rich, who can afford the increase, and the poor, who qualify for government assistance with tuition.
Frustration with he cost of education has been growing for many years inside of South Africa. In 1994, the promise of free education and racial transformation was prevalent with the election of Nelson Mandela. Since then, the promise of free education was sacrificed for other political priorities. The cost of higher education has continued to rise almost as fast as frustration with the cost of that education. A medical degree at Wilts University in Johannesburg now costs 58,140 rand ($6,000) a year. Proposed fee increases could push that as over 65,000 rand in 2016.
In an attempt to ease riots around the country the government offered to cap fee increases at 6% annually. This cap would still be above inflation, doing little to help struggling students to keep up with tuition payments.
The government and school leads have been placed in a difficult position. They claim that the fee increases are necessary to maintain the standards of higher education. Educational leaders have pleaded with the government to find even more funding to support an already struggling higher education system. Nene pushed the government "to find solutions where the current situation is inadequate," but admitted "the government is seized with this matter."
For more information, please see:
SABC News – Free education policy sidelined post 1994 – 22 Oct 2015
ABC – South African riot police clash with student protestors, fire tear gas and stun grenades – 21 Oct 2015
The Guardian – South African police fire teargas at students in university fee protests – 21 Oct 2015
Al Jazeera English – South African students protest education fee hike – 26 Oct 2015