By: Anthony B. Emmi
Impunity Watch Staff Writer
WASHINGTON, D.C., United States – The Inter-American Commission on Human Rights (IACHR) has found that Cuban state agents are endangering the rights and physical safety of 20 members of the San Isidro Movement (MSI). The MSI was formed in 2018 in opposition to a then-new law that made it illegal to perform art before it is approved by the Ministry of Culture. It is a group of artists, academics, independent journalists, and human rights defenders pushing for increased political and artistic freedom, as well as democracy. State agents have frequently targeted members of the MSI, for heavy surveillance and often violent detention.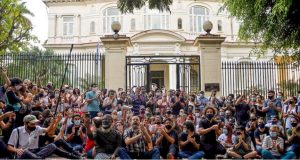 Denís Solís González is a rapper and one of the 20 MSI members identified by the protection order. Mr. Solís González was violently detained by men who were allegedly state counterintelligence operatives on November 9th, 2020. On November 11th, he was sentenced to 8 months in prison for "contempt." He was not permitted to contact anyone until November 16th. On November 12th, two other members, Luís Manuel Otero Alcántara and Iliana Hernández Cardosa, were detained while investigating the disappearance of Mr. Solís González. Other members suffered similar detentions, along with alleged beatings and sexual abuse. When activists held a hunger strike in an apartment to oppose the imprisonment of Mr. Solís González, state agents raided the building and detained the participants. The state cited Covid-19 regulations as justification to execute the raid.
State agents have also placed MSI members under 24-hour surveillance in their own homes. Between December 1st, 2020, and December 11th, Anamely Ramos González was only able to leave her home once. The one time she was able to leave, she was escorted by state agents to the Mexican embassy in Havana.
In response to the dangers that movement members are facing, on February 11th, 2021, the IACHR issued Resolution 14/2021 (the Resolution), which grants protection measures for the 20 identified members. The Resolution requires Cuba to: (a) adopt the measures necessary to ensure state agents will respect the rights and personal integrity of the MSI members; (b) ensure the measures allow the MSI members to safely continue their work as human rights defenders without threats of violence or intimidation; (c) agree on the measures with the MSI members and their representatives; and (d) report on the actions it has taken to investigate the events that necessitated the Resolution.
For further information, please see:
Amnesty International – Cuba: San Isidro movement and allies under the frightening levels of surveillance – 15 Dec. 2020
Inter-American Commission on Human Rights – The IACHR grants precautionary measures in favor of 20 identified members of the San Isidro Movement (MSI) regarding Cuba – 12 Feb. 2021
Inter-American Commission on Human Rights – Resolution 14/2021 – 11 Feb. 2021
The New York Times – They Call Us Enemies of the Cuban People – 10 Dec. 2020
Wall Street Journal – Cuba's San Isidro Uprising – 20 Dec. 2020