By Samuel Miller
Impunity Watch Reporter, North America and Oceania
JAKARTA, Indonesia — Indonesia's President Joko Widodo has called for revisions to the country's anti-terrorism laws after last week's attacks in the capital, Jakarta. The proposed changes would make it easier for officials to arrest anyone suspected of planning an attack.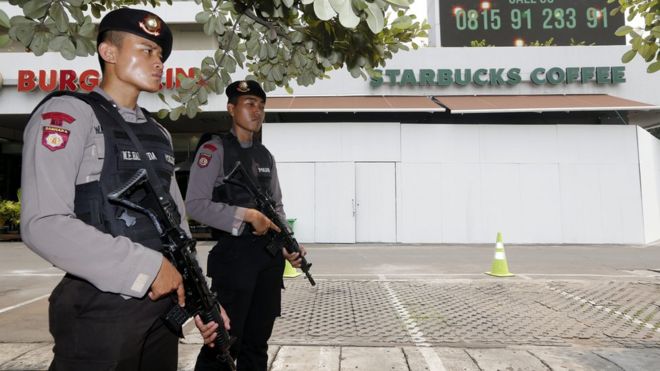 The call for review comes in the wake of last week's attacks in Jakarta, which were claimed by ISIL.
President Widodo, addressing a high-level security meeting on Tuesday, called for amendments to the country's anti-terrorism law after ISIL-linked attackers struck last week at the heart of Jakarta, the capital of Indonesia, the most populated Muslim country.
The proposed changes would make it easier for the authorities to arrest anyone whom they believe have a strong indication to be planning a terrorist attack, according to the minister in charge of security, Luhut Panjaitan. The proposed new legislation would also allow officials to hold suspects for longer than a week without charge and would make it illegal for Indonesians to fight with militants of ISIL.
"It's true that there are some people who feel this won't be a solution to the problem, but at the very least it will make it easier to get intelligence data and make it harder for terrorists to get space to operate," said Panjaitan.
Senior officials in Jakarta believe that roughly 500 Indonesians have traveled to the Middle East region to join the ISIL and other militant groups. Nearly 100 are believed to have returned to the Southeast Asian country in recent months.
Security forces would also be permitted to hold suspects for longer without charge, and it would be made illegal for any Indonesian to fight for ISIL, in an effort to dispel fears that those returning could plan further attacks after being radicalized.
Indonesia's national police chief, Badrodin Haiti, reportedly admitted their current authority is limited. "We can detect, but we can't take action before any crime is committed. That is the weakness of our regulations. For example, if there are those who came back home from Syria after joining IS, there is no proof of their crime and we can't take action against them."
The planned laws have faced opposition from human rights organizations, political figures, and Islamic groups who argue that the proposed laws are too authoritarian in nature and would mark a step back towards the powers that the police once held under the previous Indonesian dictatorship.
It should be noted, however, that all of the major parties have expressed at least some support for the measures, suggesting the proposed laws will most likely be approved by the Indonesian parliament.
For more information, please see:
BBC News — Jakarta attacks: President Widodo seeks terror laws review – 19 January 2016
NewEurope — Indonesia's anti-terrorist law overhaul debated – 19 January 2016
PressTV — Indonesia president seeks terror law review – 19 January 2016
Voice of America — Indonesia's Widodo Seeks Terror Law Review – 19 January 2016
The World Weekly — Indonesia to strengthen anti-terror laws after Jakarta attacks – 19 January 2016
Bloomberg — Indonesia to Strengthen Anti-Terror Law Following Jakarta Attack – 18 January 2016